Local Food: How to Make it Happen in Your Community
Sorry, this book is currently out of print.
For bulk orders contact Transition Books.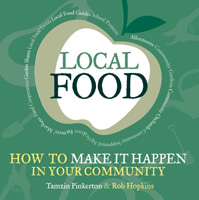 Local Food: How to Make it Happen in Your Community
by Tamzin Pinkerton and Rob Hopkins
192 pages in two colours, 220 x 220mm
Published by Green Books
Local Food provides inspiration and practical advice for creating local food initiatives – showing how to restore and establish community networks to generate healthy, locally produced food.
Many people already buy their vegetables as locally as possible, eat organic and seasonal food when they can, and are perhaps even getting to grips with managing an allotment. However, with current economic pressures and mounting concerns about climate change and peak oil, there is a growing feeling that we need to do more to reduce dependence on the global market.
Local Food offers an inspiring and practical guide to what can be achieved if you get together with the people on your street or in your village, town or city. It explores a huge range of local food initiatives for rebuilding a diverse, resilient local food network – including community gardens, farmers' markets, Community Supported Agriculture schemes and projects in schools – and includes all the information you will need to get ideas off the ground.
Drawing on the practical experience of Transition initiatives and other community projects around the world, Local Food demonstrates the power of working collaboratively. In today's culture of supermarkets and food miles, an explosion of activity at community level is urgently needed. This book is the ideal place to start.
You can read Rob Hopkins' introduction to the book here.