Local Money: How to Make it Happen in Your Community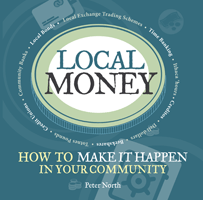 Local Money: how to make it happen in your community by Peter North.
"Whoever controls money controls our lives. Taking back that power for good, not harm, has to be at the heart of new thinking after the crash. Without change, the next one could be Armageddon. This book tells every community everywhere how to make local money work for local good." – Polly Toynbee, Guardian columnist
"A local currency is essential for greater local resilience. Peter North's comprehensive and well-written survey of local money systems is the best guide by far for communities planning to launch their own currency." – Richard Douthwaite, author, The Growth Illusion and The Ecology of Money
For UK orders:
£18.50
Europe:
£20.99
Rest of World:
£25.50
In past recessions and depressions, a popular response from communities has been to create their own forms of money. The jobs aren't there, and the money has dried up, but needs remain. Avoiding dangerous climate change means cutting as much carbon out of our economies as we can, and we can do this by cutting unnecessary transport through localisation. How can local money facilitate this?
An inspiring yet practical new Transition Book, Local Money helps you understand what money is and what makes good and bad money, and reviews how people around the world and in the past have experimented with new forms of money that they create themselves.
The book draws on the track record of experimentation with local money to show those in the Transition movement and beyond what has been tried, what works, and what to avoid. Different models of alternative currencies are reviewed, from the Local Exchange Trading System (LETS) and TimeBanks, which work within communities, to paper currencies such as Berkshares, German regional currencies and Ithaca 'hours', which circulate between local businesses as an alternative to their losing trade to the national chain retailers. Currencies like Ithaca 'hours' can also easily be used to enable people to exchange services locally at agreed hourly rates.
How can local banks and bonds help us move our cities, communities and homes on to a more sustainable footing? The book suggests how groups can create future forms of local money that can deepen local resilience and support the development of more local production of the things we need, such as food and power.
The Author: Peter North teaches Geography at Liverpool University. He first heard about local currencies while doing a Masters in Peace Studies in 1992, and has been exploring local currencies worldwide since then. He is one of the founder members of Transition South Liverpool.
ISBN 978 1 900322 52 2
220mm x 220mm
192pp in two colours
£14.95 paperback