12 Jul 2006
Cob Building Masterclass in West Cork – don't miss it…
My name is Rob and I'm addicted to cob building. My passion for cob is barely disguised, and has been a powerful force in my life in recent years. Once I got the bug I was hooked. The feeling of monolithic curved cob walls is something that no other material can provide, and it is such a gorgeous material to work with. To begin with I taught myself from books, from tips on websites, and by asking anyone I knew who had ever worked with it. Although I read many books in subsequent years, and worked with many cobbers, still the one who most fired my imagination with cob's possibilities, and the life changing potential of natural building, is Ianto Evans of Cob Cottage Company, Oregon, US. I have had the joy to work alongside Ianto on two cob courses, and in September he is returning to The Hollies Centre for Practical Sustainability in West Cork, a rare opportunity to have your life changed!
Ianto is the author, alongside Linda Smiley and Michael G. Smith of The Handsculpted House, the most compassionate, human and grounded book on building in print. It was the first book I read on building that completely resonated with my thinking on how construction should be about so much more that just shelter making. Buildings, the authors argued, should be so beautiful that they make grown men cry. Amen to that, and the colour photos in the middle are testament to cob's ability to do just that.
I have seen the amazing effects on peoples lives that their cob courses have on people, I've sat in the closing circles at the end of the course and heard people talk about how 10 days working with cob has affected their whole outlook on life. During these courses people are moved to write songs about cob, poems, dances, stories. You also get to learn a lot about cob! Ianto's 'everything you could ever need to know about foundations in 15 minutes' is quite a refreshing and enlightening experience for anyone who has had their minds boggled by architects!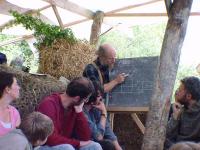 This 9 – day intensive course will be hands-on, covering every aspect of the construction of a cob cottage, from locating and testing the right kinds of soils for cob, to different ways of mixing it, wall building techniques and all the sculptural details. You will learn how to fit windows and doors, as well as how to sculpt arches and niches. Lectures will cover siting, passive solar design, drainage, heating, plumbing and electric, natural roofing, and flooring.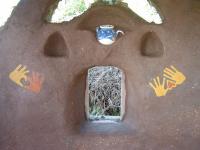 Also, on 13th and 14th September Ianto will teach a Lorena cook stove building course, preceded by an optional evening talk on Tuesday, 12th Sept. I cannot recommend this course highly enough. The Hollies is a gorgeous place, and you will also get to spend time in Thomas and Ulrike's beautiful cob house, one of the most gorgeous examples of cob construction anywhere. If you have an interest in cob, kindle the flames into a passion on this course with Ianto. It comes highly recommended.
For more information click here or email thehollies@eircom.net