About this site and me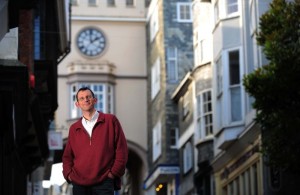 This section is to tell you about myself.  It is written in the third person not due to delusions of grandeur, but so that people who need biog pieces can cut and paste it from here.
"Rob Hopkins brings humour, imagination and vision to the great challenges of our time, and argues that what is needed, above all else, at this time in history, is "engaged optimism".  The rapidly-spreading Transition movement which he was pivotal in establishing, is an embodiment of that.  Nicholas Crane, presenter of BBC2's recent 'Town' series, recently referred to Transition as "the biggest urban brainwave of the century".
He is the co-founder of Transition Town Totnes and of the Transition Network. This grew out of many years experience in education, teaching permaculture and natural building, and setting up the first 2 year full-time permaculture course in the world, at Kinsale Further Education College in Ireland, as well as co-ordinating the first eco-village development in Ireland to be granted planning permission.
He is author of 'The Transition Handbook: from oil dependence to local resilience', which has been published in a number of languages, and which was voted the 5th most popular book taken on holiday by MPs during the summer of 2008, and more recently of 'The Transition Companion: making your community more resilient in uncertain times', published in October 2011.  He publishes the blog www.transitionculture.org, recently voted 'the 4th best green blog in the UK'(!).  He tweets as @robintransition, and recently came 11th in the PeerIndex-driven Sustainability Drivers List.
He was the winner of the 2008 Schumacher Award, is an Ashoka Fellow and a Fellow of the Post Carbon Institute, served 3 years as a Trustee of the Soil Association, and was named by the Independent as one of the UK's top 100 environmentalists.  He is the winner of the 2009 Observer Ethical Award for the Grassroots Campaigner category, and in December 2009 was voted the Energy Saving Trust/Guardian's 'Green Community Hero'.  In February 2012, Rob and the Transition Network were among NESTA and The Observer's list of 'Britain's 50 New Radicals'.
He lectures and writes widely on peak oil and Transition, holds an MSc in Social Research and recently completed a PhD at the University of Plymouth entitled 'Localisation and resilience at the local level: the case of Transition Town Totnes'.   He recently became a Visiting Fellow at the University of Plymouth.  He lives in Devon and grows food for his family.