27 May 2008
Looking Back to the Beginning of a Permaculture Course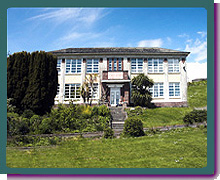 Graham Strouts over at Zone5.org recently posted a piece about the end of term at Kinsale FEC, and the graduation of another year's permaculture graduates. It was particularly poignant this year because John Thuillier, the college's Principal who initially got the permaculture course going, and his wife Margaret who handled much of the college's admin, are retiring. To commemorate, Graham sent me a list of questions exploring the early days of the Permaculture course out of which what is now a 2 year full time course, the Kinsale EDAP and, ultimately, the Transition movement, grew. You can read the original here, and although it won't be of interest to everyone, some of you might find a taste of the course's history to be of interest.
When did you first move to Ireland?
I moved in September 1996, from Bristol. I had just finished my degree and my second child was about 6 months old. From a house in the middle of Bristol to a mouse-overrun farmhouse up a lane near Skibbereen. I had lived in cold houses before, but this one was COLD. From the moment I arrived though, I absolutely loved it.
Did you already have the idea of starting the course when you first came over?
No, not at all. When I moved I hadn't yet done any teaching. I had done my Design Course in 1992, and had been involved in the Bristol Permaculture Group for a few years. I had assisted on a couple of Patrick Whitefield's Design Courses, but hadn't done any teaching as such. It was about 6 months after we moved that I taught my first permaculture course, an introductory weekend, at my in-laws' house. Our plan when we moved was to set up an eco-village, and to build strawbale houses…
How did you go about approaching colleges- was Kinsale the first one you tried?
Actually the precursor to the Kinsale course was a Design Course done as an evening class that I did at Rossa College in Skibbereen 1999-2000. It was the first Design Course I ever taught, and it was a wonderful experience. They often say that the best way to learn something is to tell yourself that you are going to be teaching it in 3 weeks time… I remember that I had always avoided the section on Pattern in the Designers Manual, and I had to read everything I could get my hands on about patterns, it was great.
There were some fascinating people did that course, some are still off doing interesting stuff. It was a real baptism by fire but the feedback was very encouraging, and like these courses usually do, it created a dynamic community of people. I asked the college there if they would be interested in running a full time version, but the Principal was unconvinced, he really didn't understand what I was talking about!
I also approached Colaiste Stiofan Naoife in Cork, who were kind of interested, but they wanted it to be part of their Horticulture course, and the head of that department made it pretty clear that if the course ran there, he was the boss. Then I talked to Belinda Wild, a friend of mine, who was teaching Drama at Kinsale, and she suggested I talk to John.
I rang him up and he was keen to meet, so we met for about half an hour, and he got it straight away. I remember I asked him how many people we'd need for it to be viable. He said 15, did I think we'd get that many? The first year we had 24, and from then on it was overbooked every year.
It was the first course of its kind to be tried in Ireland, especially the permaculture modules- how did you first sell the concept to John?
Great question! I don't remember. I think I rang him first and said that it was a design system that brought together food, building, energy, economics and so on. I don't remember what was the key thing that 'sold' it to him… be interesting to hear from him. Would be helpful in developing a permaculture 'elevator pitch'.. how to sell permaculture in 20 seconds!
I do remember him telling me that if we were to run it we would need an official permaculture module, which was something I had been developing already for Skibbereen, so I think he was impressed by the fact that I had already started working on that and had done my NCVA homework!
What was his response? In what ways did John help develop the course in its first year?
Without John the course would never have happened. Not just in terms of giving it the go-ahead, but also in his management. The wonderful thing about John was that he never told me I couldn't do any of the projects I suggested to him. Can we dig up the lawn? Grand. Can we build a strawbale house? Grand. Can we hemp and lime plaster our classroom? Grand. Can we build this amphitheatre on the strength of this sketch on the back of an envelope? Grand. I think he proved to be an extraordinary manager in that way. He trusted that you would do something unless you proved otherwise.
He also took a creative approach to interpreting the rules without which the course would have been very difficult. That first year we got funded teaching time for 3 days a week with just one module! Impossible now, but he bent over backwards to make sure that course got a fair chance. I think the main thing was that he trusted the teacher (ie. me) and he trusted the idea, and he was genuinely excited about what the course was doing, and how it was affecting people.
It created a buzz from pretty early on and my sense was that he was very proud that that buzz was eminating from his college. I also felt that as someone with many years in education, it was that buzz that he most wanted to encourage, and indeed it was what he felt education to be about, so he was delighted to see this odd new course generating it.
How did you go about building the team of tutors?
Well the first year it was just me and Philip, who was already there, but we seldom met as we were in on different days. Paul O'Flynn was the boyfriend of one of the students from the first year, Chloe, so I came to know of the work he had been doing. Thomas I knew, of course, as we lived together at The Hollies, and he had been doing lots of work on consensus stuff. We didn't really advertise for the teaching posts, again, John trusted me to bring in the people I thought would do a good job.
That also went for people I brought in as guest speakers or all the visits we went on. It was wonderful, as the course grew, to be able to assemble people whose teaching expertise I respected, and to give them the status, both in terms of being more formally recognised as teachers, and in the fact that they got paid, which they deserved.
The course has become the largest course in the college- we have 40 booked and as many as that again on the waiting list- did you envisage that it would become so popular?
No, not at all. I was flabbergasted every year. It was full earlier and earlier. By the end of my time there, I wouldn't have been surprised to see people auction their places on the course on Ebay! It felt like such a great testament to John's gamble in putting the course on. I had told him that we could get enough people, and did we ever! The fact that the course developed such a reputation, and continues to do so to this day, is one of the things in my life I am most proud of. And what a wonderful collection of people too, from all over the place, and I still bump into them in the most unusual places, and I always fascinated and delighted to hear what they are doing now and how their time in Kinsale changed their lives.
At the same time there needs to be more courses on Permaculture elsewhere and this has not yet happened- what needs to be done to help roll out permaculture courses through the education system?
We need to tell the Kinsale story more. We need to create careers for people so that there are jobs to go into with a permaculture qualification. We need to make the point, clearly and in academic/educational circles, that education is preparing people for a world that no longer exists. You want a course that actually does prepare people, reskills them, inspires them, gives them the thinking and design tools for a post-oil world? We've already designed it, and been testing it for 8 years.
It works, and it is urgently needed everywhere. I think also that we need, if it is to spread virally across the education system, to be mindful of the fact that many of the things that attract some of the students actively turn off many thousands more, i.e. the more blatantly 'alternative' aspects. If we are to mainstream this stuff we need to take a long, sober look at that I think, and see that some of the barriers to its wider disemination may be of our own making.
Have there been any similar attempts to start such courses in the UK?
There is the Sustainable Land Use course at Worcester College of Agriculture and the MSc at CAT. However, it is only since returning here that I have really become aware of how extraordinary what we did in Kinsale is. It would be hard to set something up here that was so generalist, ran for so long, allowed such a free reign in terms of the practical/academic balance, and all for £150! The Kinsale course found a particularly fertile piece of edge in the Irish education system. I'm sure it would be possible here, but I have really come to appreciate how extraordinarily lucky it was that I picked up the phone to John after chatting with Belinda.
How did your time in Kinsale help prepare you for launching the Transition Movement in the UK?
Teaching in Kinsale allowed me, I think, to design the permaculture course I always wished I had done myself (the Design Course I did was pretty disappointing, but still succeeded in changing my life). I also had trememdous freedom there to play around with ideas, and to invite guest teachers along who I wanted to learn from. The Kinsale Energy Descent Action Plan only really came about because I was able to design the projects for the students which I felt passionate about, and because, as second years, they already had a great grounding in permaculture thinking.
Its funny, because when I was in Ireland, I often looked back to the UK and saw that as being a place where lots of amazing 'green' stuff was happening, whereas it felt much harder to get people interested in Ireland. Since returning here though, I found that the freedom to do things and try things out that I had in Ireland actually gives me the kind of wildly eclectic CV that something like Transition can only emerge from. It is often said that permaculture is about becoming a generalist, not an expert, and Transition is very much based on that too, so my time in Kinsale allowed me very much to deepen my generalism and to become, as Albert Bates puts it, a well qualified post-petroleumologist.
In what areas do you think permaculture has proved itself in practice?
My sense is that where permaculture is coming more and more to the fore is not as techniques but as guiding design principles. My thinking with Transition was to design a way of making those principles implicit but not explicit. David Holmgren's book on permaculture principles makes clear that for many permaculture is about herb spirals or forest gardens, and many of those practical applications, such as edible landscaping, have become increasingly adopted although rarely credited to permaculture.
I think permaculture has proved to have the insights in terms of design and how we pull together the disparate elements of a post oil society which are desparately needed at this time. I do think that permaculture hasn't been great at documenting, testing and researching. Where are the good examples, what are the yields, what definitely works and what doesn't? Why are there still only a handful of professional permaculture design consultancies out there? Goodness knows we need them…
What is the most important contribution permaculture can make as we travel down the learning curve?
It can retrain an astonishingly useless culture, it can help take the fear out of this transition by re-empowering people and showing them the energy that there is in working with other people, it can offer principles to underpin what we do and it can create tangible models, demonstrations of post-oil living. We should remember that permaculture first emerged in the first oil shocks of the 1970s, and it is now, as we enter the second oil shocks, that we will increasingly need it again, and that more and more people will see the relevance of it.
Any other thoughts as we say goodbye to John and Margaret?
What John and Margaret did in Kinsale was amazing. They created a space in which eccentric but highly creative people could explore things they would have struggled to do elsewhere. They felt passionately that education should be about discovery, about collective exploration and about getting your hands dirty. I always loved the fact that when we would have spent the day building something, and would be filthy dirty, tired but ecstatic, they would come out at say "wow, well done", and John would sometimes jig from foot to foot with excitement at what we were doing.
If we are going to model the change we need to see, and if we are going to have the inspired, skilled, creative leaders we need, then courses like the Kinsale course are desparately important. It was always an honour to work with John and Margaret, and I wish them all the best in their retirement.
You can find out more about the course (which is already full for this September) here. With deepest thanks to Graham for making the course what it is today, and for asking such wonderful questions…