2 Apr 2009
An Evening in the Dark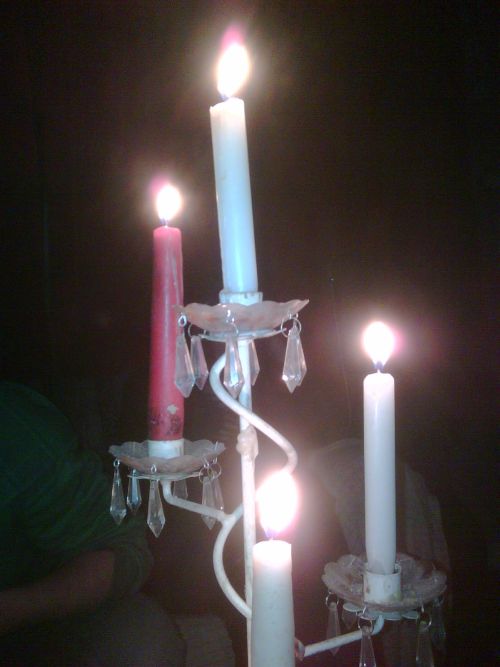 Saturday night was Earth Day, when, as a sign to the world leaders heading to Copenhagen, people around the world were invited to turn their lights off for an hour so as to make a detectable difference to energy consumption. Lights at the Sydney Opera House, the London Eye and the London Gherkin were all turned off, as well as in millions of homes around the world. Not one to be left out, at 8.30pm we duly got out the candles and switched off the lights for an hour.
Of course at the end of the day, if you have low energy bulbs, having your lights on or off doesn't really make much of a difference to your energy consumption. It would probably make a more substantial and noticeable reduction if for that hour people were invited not to boil the kettle, put their washing machine or tumble drier on, or to use the hairdryer. Anyway, the symbolism of millions of people reaching for the offswitch for an hour is powerful, so we did.
We got out some rather nice candles, lit the fire and gathered all kids from various corners of the house. Our hour was spent playing Uno (a favourite card game), reading 'The Faraway Tree' to my riveted 7 year old who loves it, playing guitar with my eldest, chatting and generally enjoying the rather nice atmosphere of all being together.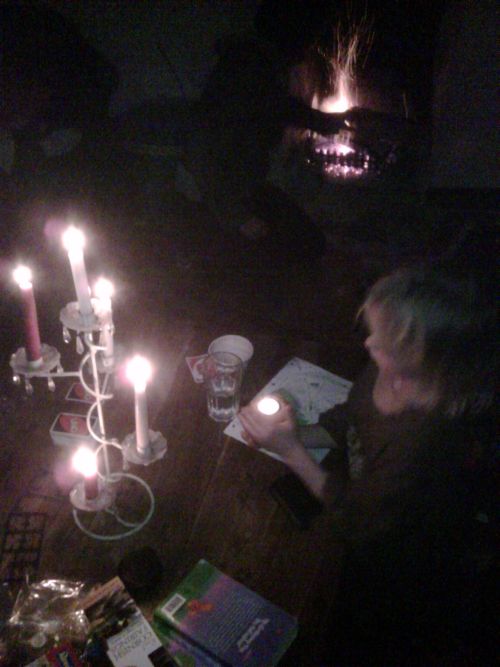 It was a great example of the multiple spin offs that can come from such things. Although, in the recent discussions here about whether one person not flying makes any difference, my sense is that we return, once again, to the power of stories, and also, almost, of ritual. To be part of an event where you know that millions of people (hopefully) around the world are doing the same thing with the same motivation at the same time gives one a deep sense of connection and re-enforcement. It also, for people with young children, creates an evening they will remember, will tell their friends about, and will also remember the reason why they did it.
Also, to know that around the world, millions of people were sitting in candlelight thinking "actually, candlelight is really nice, we should do this more often" was great too. It is another example of taking some of the fear and mystique out of some aspects of a lower energy world. It wasn't just about turning off the lights, it was also about taking time to spend with family and friends, slowing down for a while, de-electrifying our lives for a short while….
We certainly had a better Earth Day than some.  Over at Grey Lynn 2030 Transition Town in New Zealand, a writer there had planned to do candlelit Earth Day with her family.  She explained to her dad what Earth Day was about and his succinct response was "bugger Earth Day, I'm watching the League".  The Western Morning News on Tuesday, under the fantastic headline "Climate change candle sets house alight" told of a family near Totnes who had done the Earth Hour thing, turned the power off, lit a candle and then gone for a walk (tip for the day folks, don't light candles and then go for walks).  They only just got back in time to avoid the fire getting completely out of hand.  So, if you spent Earth Day sitting with candles and having a chilled, quiet time… remember, you were lucky…