2 Nov 2009
Back to the Old House: a few days at The Hollies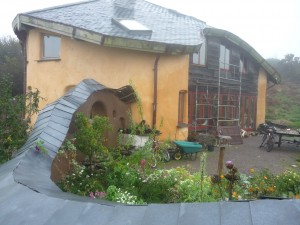 Spent the half term weekend in West Cork in Ireland, revisiting people and places that made up my life between 1996 and 2005.  It was like visiting a parallel world, a 'Sliding Doors'-like glimpse at what could have been, offering reflections on where I am now and where I have come from.  I will write in more detail about a few aspects of things I saw there over the next few days, but today's post is about The Hollies Centre for Practical Sustainability, the eco-hamlet cum sustainability training centre we were involved in setting up from about 1998 onwards.  Here, in a nutshell, is the story of where it came from, and what has happened there since we upped and moved to Totnes.
So, the story, in its abbreviated form (you can read more about the early days here) runs something like this;
1996 – move to West Cork
1997-1999 – set up Baile Dulra Teoranta, the charitable eco-village development company, search for a site (initially with some of the people who later went on to create The Village), find one, The Hollies near Enniskeane, and buy it, at auction, with Thomas and Ulrike Riedmuller, with whom we then set about creating The Hollies Centre for Practical Sustainability
1999-2002 – start annual programme of training courses, submit initial planning application for ecovillage of 16 houses and a study centre, which is refused, and then refused again on appeal.  More planning applications follow, and in the end, permission is given for 4 houses and the study centre.  The planning process is so long and gruelling that by the time we get it, we are so drained that it takes us 3 days to open the bottle of champagne we had bought to celebrate!
2003-2004 – construction begins on first two cob houses, and progresses well, aided by input from volunteers and course participants
2004 – our house is destroyed in a deliberate fire
2005 – we move to Totnes and Thomas and Ulrike remain to complete their home and to continue The Hollies.
Since then, apart from a very brief visit to The Hollies that I made on my own a while ago, we have not been back, in spite of keeping up with developments over the phone.  So it was fascinating to spend a few days there over half term (following a horrible journey on the 'Vomit Comet', Fishguard/Rosslare ferry) and to catch up.  Returning to something you have been so intimately involved with visioning and setting up and are no longer involved with can be very difficult, but it was wonderful to see things moving forward so well there now.
The community has swelled from the one family left when we departed, to 4 households of people.  The programme of courses continues to prove very popular, in particular the expanding programme of gardening courses, which a recession-hit Ireland has taken to with a passion.  Open Days, which happen twice a year, now attract over 200 people each time, many of them local.  New buildings have been built, mostly in cob, and all gorgeous.  Children have grown up, and new ones arrived.  Trees have grown, gardens have emerged, and the place has a real buzz around it, moving purposefully towards the original vision of the place that led to its establishment.  Here are some of the new elements at The Hollies….
The Market Garden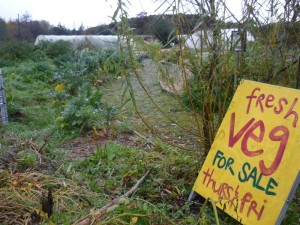 One of the most exciting additions to the place is Selvi Iyilikci and John Conway's no-dig market garden, established next to the main road.  Rumoured to be Ireland's biggest no-dig market garden, it is not only practical and productive, it is also a very beautiful garden.  It hosts 2 polytunnels, and the raised beds are arranged irregularly but very attractively, and there are also many flowers spread throughout the garden.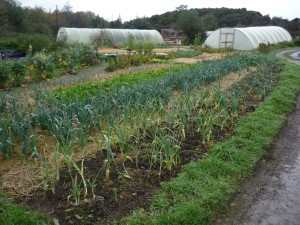 It is open for people to call in for produce two days a week, and they also run a market stall at Bandon Farmers Market once a week.  They grow a wide range of things, although their focus is largely on year-round salads and other greens.  The garden is also home to the cob greenhouse.
The Cob Greenhouse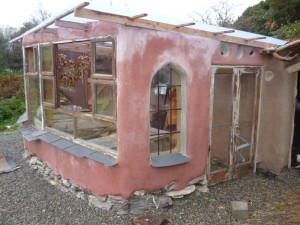 The thinking goes like this… greenhouses are great growing spaces, offering protected spaces and harvesting sunlight, but they lose the heat they gather just as quickly.  Cob walls have great thermal mass and can store and re-radiate heat.  So, put them together!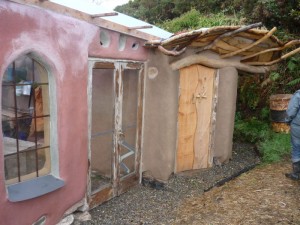 The result, built on last year's 8 week natural building apprenticeship, is absolutely gorgeous, and a wonderful space.  It is still missing a couple of panes of glass, so it is too early to tell whether it functions in the way it theoretically ought to, but it is an amazing thing nonetheless.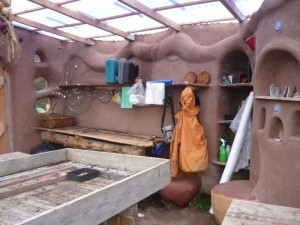 It is so gorgeous that my continuing to write about it is really of no use to anyone, so instead just check out these few photos….
The Rebuilding of the Cob House
After the fire, our house was just cob walls, and nothing else.  In the intervening years, the inclement West Cork weather wasn't kind to the walls, and about half of what we had built dissolved and melted away.  Paul O'Flynn, who teaches horticulture on the Practical Sustainability course at Kinsale FEC, and who lives in our old timber house at The Hollies, bravely took the ruin on and is rebuilding the house.  He has much simplified the design, and has kept most of what cob remains, which he has repaired with fresh cob.  The week we visited was a very significant point in the rebuild; he had for the first time sealed the building in, with a roof and with the sides covered with a breather membrane.  All the wood used in the building was cut and milled using wood from forestry in Mallow.  It is wonderful to see that it will be a home, and that it is moving forward so well.
The Pizza Palace and the Roundhouse
Two other cob structures are also delightful.  There is the pizza palace, built while we were still there, but recently repainted and looking gorgeous.  This is basically a covered outdoor social space, with a clay pizza oven, a Rumford fireplace, lots of seating and many beautiful sculptural cob embellishments.  The Roundhouse was built later, and is a larger social space for events and courses, also serving as a dining space for courses.  As its name suggests, it is a round space, with a reciprocal frame roof, with undulating cob walls with many niches and sculptures.
The New Orchard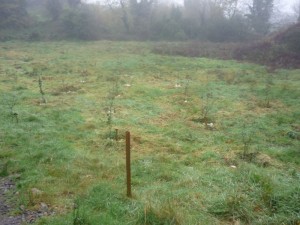 On one of the fields, Ron de Bruin has planted an orchard of grafted apples, each with its own numbered post, mainly of Irish apple varieties.  Just before we bought the Hollies, a substantial orchard at the back of the main farmhouse was chopped up for firewood, so there is something fantastically reparatory about this project.
Thomas and Ulrike's Cob House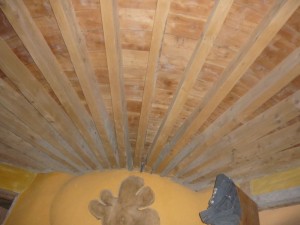 The jewel in the crown at The Hollies is the cob house (see top photo), home to the Riedmuller family.  A loadbearing cob house, it is surely one of the most gorgeous houses ever built, with its niches, alcoves, rustic staircase, clay and hemp plasters, earthen floors, masonry stove and much more.  You'll struggle to find a right angle in it, and it is the embodiment of the term 'hand sculpted house'.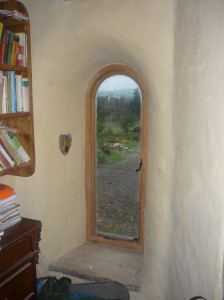 We stayed there for the week, and it is truly a stunning home.  Unfortunately, due to a problem with my camera, all the internal photos I took failed to come out, apart from two, so here they are.
Reflections
This short piece only touches on some of the new elements underway at The Hollies.  It was delightful to see how things there are continuing, how land is being used productively, how the principles that underpinned the original concept are still central to what is happening there.  The community there are dedicated, passionate and hard working, and as in love with the place as we were the first time we visited it.  It is fascinating to revisit a place with which one was so intimately involved, and to imagine oneself still there, and how life might have been.  My life now is very different, but it is very affirming to witness the seeds which we helped to sow growing into such a strong and firm sapling.
To find out more about The Hollies, click here.