14 Jan 2010
An Update on 'In Transition 1.0'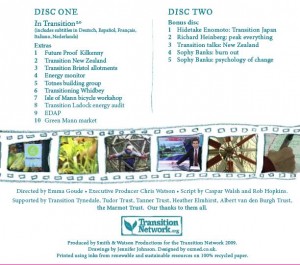 It has been just over a month since the DVD of 'In Transition' was launched and I thought it might be good to give an update.  The film was posted onto Vimeo, where it has been watched over 2,500 times, and around the same on YouTube.  It has also been shown on the Community Channel.  Sales of the 2 disc DVD set have been good, and the feedback on the film itself and also on all the extras has been excellent.  Transition groups can buy bulk copies of the DVD at very good discounts.  Being able to make 'In Transition 2.0' will depend, in part, on our being able to recoup the expenses of the first one, so do buy copies and tell people about the film!  Also, do let us know how you found the DVD and the extras, as well as stories about any screenings you might have done.  Here are a few of the testimonials we have been sent by people who have shown the film.  You can order copies of 'In Transition' here. 
"I just wanted to say a huge thank you to you and your colleagues at Transition Network for allowing us to show the Transitions 1.0 movie at nef The Bigger Picture festival on 24 October. I am sorry to say I contravened every health and safety rule in the book for the screening of your movie. So many people wanted to see it that in the film screening room we had the aisles chock full of people sitting on the floor as well as people standing at the back etc. This eagerness to see your movie typified the atmosphere of the day which was one of incredible commitment, enthusiasm and, I have to say though it's not a fashionable word these days, real fervour. We had around 1500 people attend the event, although unfortunately we had to turn many more away because of the venue capacity. Though we didn't keep a log of people's affiliations, personally I recognised many faces in the audience from the Transitions conference or from my local transitions group (transition brockley).
Lily, one of the organisers of NEF's Bigger Picture event
Hi all, We had a blast at our screening! We've done up a Calgary Transition Town video and are cutting in some video of the event then we'll send it to you.
Gerald Wheatley, Arusha, US
We debuted In Transition last night in Los Angeles.  We had a good crowd – a lot of new faces, and more exciting, the attendees were from quite a broad panorama of neighborhoods within the vast Los Angeles basin.  Since our current goal is to trickle Transition ideas into as many communities as we can, this was right on track.
Joanne Poyourow, Transition Los Angeles City Hub
We have received the movie – thanks a lot! Yesterday we did a small private screening – it is really well done and transports the TT spirit very authentically in form, images, sound and "mood". Was very moved & inspired afterwards.  Congratulations to all involved & am sure it will be a huge help in getting the excitement level about TT in Bielefeld and Germany to a whole new level.
Gerd Wessling, Transition Bielefeld, Germany: