24 Mar 2010
The Great Reskilling: what to do with left-over Runner Beans
Here is a top tip I wrote which appears in the latest edition of Permaculture Magazine, out now.
"One of the key frustrations about the end of the summer months is stringy runner beans.  You nurture them, weed them, give them a frame to climb up, yet by the end of the season, many of them are tough, fibrous, and inedible.  Last summer, I sat with a large trug of large, stringy runners, thinking of a use for them other than the compost heap.  The solution came to me after reading John Paul Flintoff's 'Through the Eye of a Needle'.  I have discovered a way of extracting those fibres that prove so hard to digest, in a way that they are actually useful.  Here's how.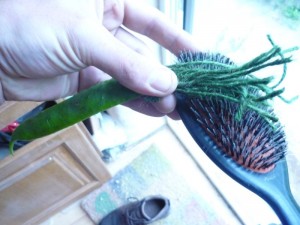 First select the longest beans.  Then freeze them.  Then put them into a pan of boiling water containing vinegar and borax for 4 minutes and then plunge them straight into cold water.  Then leave to dry for a couple of days in an airing cupboard, and then, using a metal tooth comb, start brushing the bean, holding at one end and brushing away from yourself.  The fibres emerge easily (see picture), and once you have a sufficient amount, they can be spun to form a strong fabric, akin to hemp.  Initially it can be scratchy to wear, but conditioner helps greatly.  My first product is a rather stylish jumper, knitted entirely from one year's inedible beans, and at permaculture gatherings, it accompanies my slugskin trousers just beautifully and is much admired and discussed.  Indeed, as one admirer put it to me this summer, when it comes to fashion, I'm no 'has-bean'!