28 Sep 2010
A Report from the 2010 Transition Cascadia Regional Summit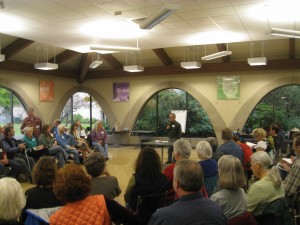 Here is a guest blog from David Johnson…
On Thursday, September 15th an historic event took place in the development of Transition on the North American continent. With over 70 people in attendance from across the North West, the first Northwest/Cascadian Transition Summit took place in Seattle. In such a large continent with diverse geographies, bioregional networks can help Initiatives in a given area link in with each other, sharing skills, resources and best practices, and so build strength and support within their bioregion. On this day even national borders were no boundary, with people traveling down from Canada to join in the conversations.
After a couple of years of occasional conversations by people in the North West about the possibilities of a regional gathering, a small group of people came together in Seattle to make it happen. With Leo Brodie taking the lead, two months of intense organizing started. In mid-September in South Seattle the annual NW Permaculture Convergence was taking place. Leo contacted the venue where that was taking place, South West Community College, to ask if a day long conference could be held on the day prior to the start of the convergence. Not only was the answer "yes", but we were gifted with no charge for the venue. Chris Wolfe from Transition Whatcom County took the plunge and offered to prepare three meals for the day. Chris had never cooked for so many people and took to the challenge with enthusiasm and love which spoke so much to what the day was about. Chris was helped in the kitchen by ten year old Keegan who was attending the event with his dad. Meanwhile online lively discussions took place looking at the format of the day. The final order of events included four panel discussions, an Open Space session and a final discussion as to "what next?".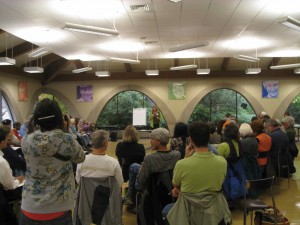 So around 8:00am on Thursday 15th people started arriving for breakfast and registration. The places and Initiatives  represented by those attending included Vancouver BC (Village Vancouver), Transition Whatcom County (Bellingham and surrounds), Methow Valley Community Preparedness Committee, Transition Port Gardener (Everett, WA) Sustainable NE Seattle, Transition Whidbey, Bainbridge Island, Vashon Island, Transition Seattle, Transition Olympia, Port Townsend, Sandpoint Transition Initiative, Transition PDX (Portland OR), Salem, Eugene, Transition Reno, Montanna, Transition US, Ohio – my apologies if any group or area has been left out. We were also joined by Janaia Donaldson and Robin Mallgren of Peak Moment Television – www.peakmoment.tv – who were in the North West filming.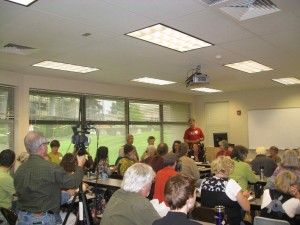 The proceedings started with Leo Brodie welcoming us all to Seattle and the Summit, followed by an initial address by Carolyne Stayton, Executive Director of Transition US. Carolyne spoke of the inspiring work of Transition US, the number of Initiatives in existence around the US (currently 74) and those currently mulling over the possibility of setting up an Initiative in their community. From Carolyne's introduction we moved into two hours of panel presentations looking at different aspects of Transition. The panels were,
Exceptional Events;
Planning an Unleashing;
Interweaving with other groups and on multiple levels;
Starting and Nurturing a Heart & Soul group;
More information about these sessions and other reports from the day, can be found here.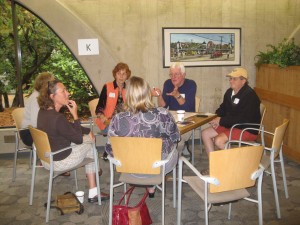 Following lunch, there were a few announcements including a message of support from Rob Hopkins who had been rather put on the spot with a text message from the conference floor. "Thank you" Rob for that spur of the moment thought!
The Summit then moved into an Open Space session facilitated by Deanna Martin of Dynamic Facilitation Associates. The calling question for this Open Space was, "What is the work we/I need to do to advance the Transition movement at local, individual, global levels…?". This question resulted in twelve topics being brought to the table covering a range of subjects including Faith, Funding, Emergency Preparedness, EDAP, Re-skilling, Inclusion of all Voices and Energy Retrofit. Two hours of keen conversation ensued after which the notes taken were put on display for everyone to peruse. Again, thanks to Leo Brodie, these notes are now available online at the website I mentioned above.
By now it was almost four thirty, and for those who had to leave we held a closing circle. During the circle, Bud, a Native American who along with a group of people from Montana had driven through the night to be at the Summit, passed around a small wooden ball to everyone in the circle. He was going to take this ball back to his reservation to use in a ceremony for the community gathered there in Seattle.
 …but the day was not over yet.

Following dinner we moved into the final session, a discussion of "what next?". We stayed seated at the tables where we had eaten and brainstormed the question for fifteen minutes. A microphone was then past round and a representative from each table reported back. Much was said, again summarised on the web page, but some common threads included,
Let's do it again next year…and make it two days next time!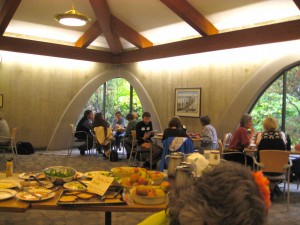 Reach out ahead of time on what are burning topics to bring to the next Summit;
Discussions around ways to network (there did not appear to be a wish to set up a formal Hub or organisation)…
…though there was a proposal to call ourselves Transition Cascadia;
Provide mentorship;
A greater spread of Head, Hands and Heart – there was a lot of talking (albeit very enthusiastic) – let's sing and dance together next time!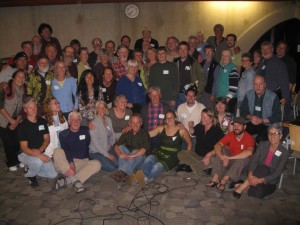 With that feedback complete, Bill Aal was invited to lead us in a final closing circle. The day might have been coming to and end, but the conversations were only just starting. There had been something about today which had felt like a celebration and embracing of all that is Transition. It had come out of a wish of people on the ground, living in an area, to come together and see how people in the North West could support each other in Transition. It had come out of the hard work of individuals just wanting to make this happen. I think that we all left feeling empowered, encouraged and reinvigorated about the way forward. As someone said afterwards, after today it felt as though Transition had arrived here in the North West.
As a footnote, on the last day of the North West Permaculture Convergence which followed on directly after the Transition Summit, an unscheduled Transition presentation attracted thirty people. These developments are encouraging to see in this part of the North American continent. A big "Thank you" to everyone who made this possible.