24 Oct 2012
Streets-Wise, or Transition Streets, is now available to be run anywhere, a powerful tool for getting beyond the converted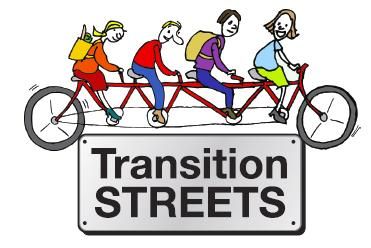 I have written several times here about 'Transition Streets', the street-by-street behaviour change model created by Transition Town Totnes which was the winner of the 2011 Ashden Award for behaviour change.  There is a good evidence base now, showing how it enables a Transition (or other) group to reach the parts that other community engagement projects may not, becoming 'green by accident' by having a good time.  It is an approach to change which is self-propelling with tea.  It embodies the Transition commitment to self-organisation, the groups managing themselves and determining themselves once the project has been set running.  Here is a short video about it:
What I am delighted to announce today is that now Transition Streets (also known as 'Streets-Wise') is available for any group to run, anywhere.
So, award-winning community engagement project Transition Streets has done the legwork to create a tried-and-tested way to break down the barriers and bring people together to take action on energy – and a new Streets-wise programme is now available for community groups to adapt the project to their own area.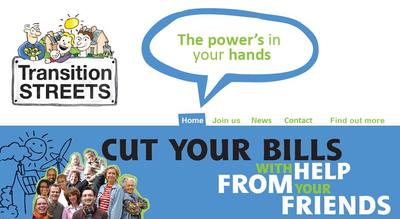 Transition Streets from Transition Town Totnes (TTT) has inspired over 550 households – who may not identify themselves as environmentalists – to make changes in their lives to help the environment (80% Totnes compared to 51% nationally, DECC LCCC baseline research, 2011). It has also increased TTT's influence on local development. TTT co-founder Rob Hopkins says 'Transition Streets has had a huge impact in terms of enabling TTT to deepen and broaden its work. It helped us to build key partnerships, and brought a great deal of respect and kudos.'
The Totnes project won an Ashden Award for behaviour change in 2011. Ashden Awards Founder Director Sarah Butler-Sloss said: 'It's fantastic to see Transition Streets go from strength to strength, and I look forward seeing this wonderful community-based model rolled out across the country. It's really exciting to see how working together on energy saving is creating all sorts of other benefits for the local community, from baby-sitting circles to a community cinema! Transition Streets offers a vision of a better future for all of us.'
The new Streets-wise programme draws on the Totnes experience to support community organsations to set up and run their own Transition Streets project. Streets-wise offers a day's capacity-building and problem-solving for the potential project management team to adapt the project to their area, followed by eight hours of phone support and use of Transition Streets' workbook, project management, publicity and evaluation materials.
Sustainable Blewbury in Oxfordshire have successfully recruited pilot groups following Streets-wise support in 2011. Spokesperson Jo Lakeland said: 'We were stuck in a groove: we were trying to convince people of the importance of sustainability and combating climate change through traditional methods like showing films or getting speakers, but the Streets-wise training showed us how it was bringing people together that could get them interested in the ideas…It really did feel like it gave us a new way of looking at getting people involved.'
Awards for All grants can help cover the costs of setting up a new Transition Streets project. Kingsteignton Transition Together in Devon, also supported by the Streets-wise programme in 2011, are funding their project in this way and have so far recruited seven groups.
To talk through your options or book the Streets-wise programme for your community organisation call Mary Popham on 01803 867358 or email transitiontowntotnes@gmail.com.  You can also download a more detailed introduction to running Transition Streets in your community here.