Straw Bale Family Home (2002)
**Strawbale family Home – West Cork**
Flushed with success following the Mallow Strawbale House we were asked to co-ordinate the wall raising for a 'proper' three bedroom house close to The Hollies. The house is located on a beautiful, if rather windswept site, next to another unusual building which is also under construction, built of German terracotta blocks.
The foundations for the house were done by an excellent local builder and were done in concrete blocks, with a cavity between them full of gravel for drainage, onto which we put a ladder made of macrocarpa timber, with sharpened hazel pins in them to hold the bottom course of bales in place. The ladder keeps the bales up off the foundations so they are kept dry.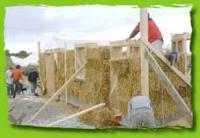 We made a lot of corner braces and supports to make sure that the walls went up straight, and we had pre-made all the window and door frames so as to speed the whole process up. 13 people came together from all over the country to take part in the 3 day workshop. The bales were cut from a field about half a mile from the house and were specially baled to be really tight.
The walls went up really straight, and the weather, which looked like being not so good over the weekend, was very kind to us. By the end of the 3 days, we had the walls all up and the roof plate on. Everyone enjoyed themselves and were very excited at what had been achieved.
There were a few things we learned from the Mallow House that we applied to this house. Firstly the foundations were a step on from what we had done at Mallow, using a timber ladder and getting away form using rebar at all. Secondly, we were much more careful to ensure the straightness of the walls, using triangulated bracings, corner braces and other ways of ensuring the walls went up correctly.
The house was roofed and plastered and is doing ok last thing I heard. There were some problems with the fact that the owner wrapped the walls in tarpaulins over the winter, and postponed the plastering until Spring. By the time we came to plaster the walls, whole sections were rotten and had to be replaced. As far as I know all is well now though.