Kinsale Energy Descent Action Plan (2005)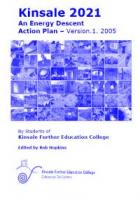 In my final year teaching in Kinsale I developed, together with my second year students, an approach that I called 'Energy Descent Action Planning'. The work grew out of the inspiration from David Holmgren's Permaculture – principles and pathways beyond sustainability and from the concepts laid out but not really fleshed out in Richard Heinberg's Powerdown. In his review of it in the Permaculture Magazine, Patrick Whitefield wrote;
"Rob Hopkins and the students of Kinsale are to be congratulated. Not only on being the first to act when most of us are still just becoming aware of the problem, but also for the quality of their work. I recommend their plan to people everywhere who would like to see some positive action happen in their own commuity. The challenge of implementing a plan of this kind is huge, but the cost of not doing so would be much greater".
The work that produced this report is set out clearly in the article 'Designing Energy Descent Pathways' which is in the Articles section of this website. We printed 500 copies of the report and they are nearly all gone. It has popped up some amazing places from Mauritius to Holland. You never know, it could be in a few years that original printed copies will sell on EBay for vast amounts (hmm, I'd better put my last few aside…)! Seeing as the PhD I am now doing is building off this work, I'd be very interested to hear your feedback or your experiences of doing anything similar. Version 2 of the Plan is currently being prepared by the course's new permaculture teacher Graham Strouts and his second year students, and will hopefully be ready by next June.
This document is still property of myself and Kinsale FEC, please acknowledge the work that went into this if you reproduce any of this work in other places. If you download it, please make a donation to the future work of Transition Design in actually implementing this Plan in Kinsale and in helping other communities to do the same kind of thing. You can send a cheque payable to Transition Design, c/o Kinsale Further Education College, Bandon Road, Kinsale, Co. Cork, Ireland.
Download the Kinsale Energy Descent Action Plan (PDF, 1.2Mb)