25 May 2006
Building with Hemp – A Review and a Competition!
**Building With Hemp by Steve Allin – a Review (see bottom of review for a chance to win a copy of this book in our latest Transition Culture competition).**
Hemp is a plant with an extraordinary history and a list of uses that would gave most other plants a serious inferiority complex. Historically it provided the UK Navy's ropes for centuries, the paper for the first US dollar bills, it can be made into a material called Hemp Plastic which was what the bodywork of the first Ford car was made from, and makes a wide range of papers and fabrics (such as the shirt I am wearing as I write this piece…). Alongside its remarkable abundance of uses is a long history of persecution. Demonised by Governments the world over for its relation to its better known and more mind expanding relatives in the *Cannabis* family, hemp has, despite being so eminently useful, been largely edged out of world production in favour of its petrochemically derived substitutes.
Now however, hemp is making a comeback. Interest around the world is growing in its various uses, one of the most promising being its use as a building material. The home of the use of hemp in building is France, where it has been widely used for many years, and is increasingly the material of choice in the conservation of old timber frame buildings. The French have also been the pioneers of the use of hemp in modern construction, developing systems for building timber frame structure with hemp infill at considerable speed.
The useful piece of the hemp plant in terms of construction is its pithy centre, or xylem, the surrounding fibres being useful elsewhere as a fibre. This central core is chipped and dried, and is used in various ways, mostly with lime. Lime acts as the binder, and has considerable environmental benefits over its closest comparison, cement. Lime reabsorbs all of the CO2 released during its firing in order to set, making it a carbon neutral material, unlike cement, the production of which releases twice as much CO2 every year as the airline industry.
Hemp and lime combined produce a material with enviable qualities. It is structurally sound, breathable, sculptable, will take a variety of finishes, and can be prepared and installed by the novice builder. It can be used as an infill into shuttered walls, in well insulated floors and roofs, and also makes a beautiful insulative plaster. Steve Allin has been involved in the promotion of hemp as a building material in Ireland for many years and has finally committed all of his experience to paper.
I have used hemp and lime plaster in buildings, and have been deeply impressed by its ease of use, its versatility and the sculptural urge that it calls forth from people. I remember working with students in Kinsale hemp/lime plastering our horrible 1970s concrete block classroom to improve its insulation, acoustics and general ambience, everyone hard at work plastering the walls. The college's caretaker, initially, over the first day, horrified at the mess we were making, found himself by the second day, deeply fascinated, especially by all the relief sculptural work that was emerging as the students discovered the material's sculptability. I returned to the room after lunch on the second day to find him quietly sculpting a little relief boat with sails, completely absorbed. It is still there on the wall, a testament to hemp/lime's ability to engage people's creativity.
'Building With Hemp' is, as far as I'm aware, the first detailed book on hemp construction. It is clearly the passionate work of a man who is deeply fond of this material and is thrilled by its possibilities. This delight shines through its 188 full colour pages. I do feel though that perhaps this enthusiasm, in places, overran the care and attention to careful editing that such a book requires. In the hands of a more ruthless editor, it could have been significantly improved.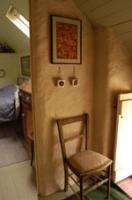 The 'further information' section at the back is very sloppy, and parts of the book, such as the conclusion, read as a bit too laidback and chatty for a book attempting to bring this material to a serious audience. My sense is also that in order for hemp to step up a gear as a building material it needs to distance itself as far as possible from the more recreational uses of the other more THC-abundant varieties, and their recreational properties. Perhaps printing extracts from Freak Brothers cartoons does not do a great deal to create this distance.
I think this book perhaps is trying to do too many things at once. It wants to present itself as the standard manual for serious builders and one which will turn the construction industry in a new direction. Yet it also wants appeal to the alternative world as a beginners guide to the possibilities of hemp. This is a very wide gap to straddle, and the book might have been more effective going more one way or another.
The section on 'how-to' is very good, packed with Steve's experience in building with hemp. He covers the creation of hemp floors, ceilings and walls in a very user friendly way, and includes all the mix recipes you could need. Naturally no building book can ever be a substitute for time spent on site, observing and familiarising yourself with the techniques and materials, but this is as good a builder's companion as any. Some of the methods for hemp new build now are ingenious and vastly facilitate its use in rapid construction, allowing to hemp to become a more widely used approach. I was disappointed not to see more information on the use of hemp in retrofitting buildings. Most of the housing stock we have is already in place, and very few of us will find ourselves in the position of building our own homes. Our need to retrofit the existing housing stock is acute, and the need to do so with more locally available materials will become pressing. Hemp offers a great tool for doing this.
However, despite many photos of hemp plastered houses, there is not much on this. I would have liked to hear how much added U-value one might expect per inch of hemp plaster, the practicalities of retrofits and, perhaps most importantly, how what would in effect be a new hemp/lime wall within an existing house would affect the movement of moisture in the house, where would the dew point be? This would have been very useful information, indeed for many people of more use than its newbuild applications.
'Building with Hemp' is a very valuable addition to any natural builder's library. It is filled with useful tried and tested information on this remarkable material and its possibilities. Steve's passion for the material shines though, and much of the information, such as his 'dos and don'ts', is clearly the result of much practical experience. It is a book which will open many people's eyes to the potential of this approach to construction.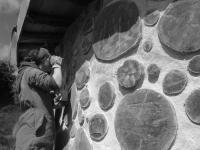 Like other natural building approaches, such as cob and cordwood, hemp walls have a particular 'feel' to them, a quality that eludes most industrial building materials. I am a great believer that the future of natural building will lie in viewing natural building materials as a pallette from which we draw what is appropriate to our situation. Natural building is not an area where fundamentalism has a place. Steve's book acknowledges the role that other materials have to play, indeed many of the houses in the book are cob or strawbale as well as hemp. I would recommend 'Building with Hemp', it is a very worthwhile attempt to put this material of such massive potential firmly on the map.
**Building with Hemp** is available from www.hempbuilding.com or from Walnut Books.
**************************************************************************
**Transition Culture 'Building with Hemp' competition.**
To win a copy of this new book on hemp construction, simply email the correct answer to the following question to robjhopkins (at) gmail.com by 10am on Friday 2nd June, and the first person drawn out of the hat by my 4 year old wins the book.
**Paper made from hemp can be recycled more times than paper made from wood pulp. True or false?**