5 Jun 2006
Messing About in Boats… Devon Style.
Last weekend I took my two eldest boys on a River Safari, organised by Chris Salisbury of WildWise. It was billed a *"a gentle adventure on the tidal river Dart watching wildlife, and enjoying the beauty and tranquility. Canoeing, camping, storytelling and bushcraft"*. I have to say, it was wonderful. Utterly exhausting, yet wonderful.
We were about 7 adults and about 12 children and we travelled in Canadian canoes. First night we rowed out to near Sharpham, and camped on a jetty thing there. We camped, made a fire, ate stew and Chris told stories (he is a very accomplished and entertaining storyteller). Next day we rowed down to near Dittisham, although struggled with the strong winds, that made it very hard work getting anywhere. The experience of rowing with every ounce of ooomph in your body and still travelling backwards at a speed is not a very pleasant one!
We eventually made it to where we camped the second night, a beautiful south facing microclimate of a beach, with a selection of plants almost selected for the wild food visitors, elder in flower, sea beet, nettles and a great selection of seaweeds. There was also lots of dry firewood and great shelter. We made camp there and ate lunch. That evening we rowed across to Dittisham (again very hard work owing to the wind) where we had supper in the pub there before rowing back for more stories, marshmallows around the fire and bed.
The last day we had breakfast of elder and sea beet fritters (very nice) and then again visited Dittisham before rowing back to Totnes, quite a long trip. I hadn't done a great deal of rowing before, and in a boat with one adult and 2 kids, the adult inevitably does most of the rowing. By the time we got back I have to admit I was knackered.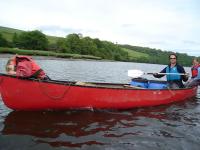 The great thing about an event like the River Safari is that it immerses people into the magic of Nature, as well as taking people out of the cocoon of daily life. Mary-Jayne Rust, the eco-psychologist I met with last year, talks about how immersion in Nature is one of the most powerful tools for reconnecting people with the world, and for giving them the space to rethink their relationship with it.
It was great for the kids to experience collecting cockles from the beach and cooking them, seeing how to make fire with no newspaper, making soap from horse chestnut leaves, which are the tastiest seaweeds, and how, in a canoe, they can't sit back and expect everything to be done for them, they are part of a team, and in that wind they are an essential part of making it to the other side! It was also amazing to spend time on the river, connecting to this bioregion and what a beautiful place it it. From a peak oil perspective, it was also a sobering reminder of what hard work transportation is if you don't have oil!
**WildWise run courses and trainings thoughout the year, on bushcraft, firecraft, sheltermaking, wild food, currach making and much more. They can be contacted on 01803 868269 or at www.wildwise.co.uk. Thanks to Chris, and also to Nick, the canoeing instructor, for making it such an enjoyable weekend**.