9 Jun 2006
5 Great Things About the Eden Project #1. The Edible Landscaping…
For a long time I have had the idea of a restaurant which is landscaped in such a way that the food that people eat is grown around them. It would be a kind of more ethical version of "I'll have the third lobster on the left please, could you boil it alive for me", being more of a "can I have the third Lollo Rosso on the left and some of that rocket over there…". It has long been a dream, but until last week I had never actually seen it in reality.
Outside the restaurant at the Eden project is a beautiful example of edible landscaping. It is one example of how the Eden team do everything with great care and attention. The mix of colourful salads, beautifully and eye catchingly arranged, was one of the finest examples I have seen of how beautiful food growing can be. Unfortunately the salads were not for the visitors to eat, not producing enough, instead the salads grown there are for the employees to take home.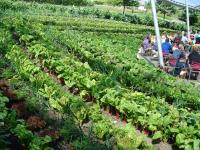 What was important about it for me was that here is an example of edible landscaping seen by many thousands of people, which is beautiful, eye catching, enticing, and completely kicks into touch the idea that food growing is not attractive. By placing this garden right next to where people are sitting to eat, it makes the connection very clearly with the food we eat and how we need to bring its production closer to home.
**Tomorrow's Great Thing About the Eden Project – the Biomes….**