8 Jun 2006
A Visit to the Eden Project … Wow.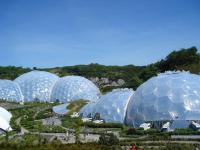 Last week I took my family to the Eden Project in Cornwall. I went fully expecting to be underwhelmed, and I have to say it completely blew me away. What a stunning thing. From the first sight of the place, everything was done so well and so thoughtfully, and was of such a scale, that it couldn't fail to take away even the most cynical skeptic's breath.
As a blogger who focuses on peak oil, energy descent and the need to relocalise, you might expect me to launch into a big moan about the fact that people have to drive to the Eden Project, that they don't grow all the food for the visitors onsite, that there is no wind tubine, blah blah. It would be very easy to walk around being critical, nitpicking about what isn't quite right about the place. While there is of course plenty of room for improvement in a number of areas, in all honesty, I could not have pulled off something on that scale, so I don't really feel qualified to criticise.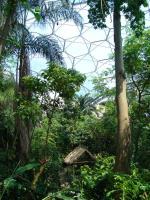 Reminds me of the only time I met Bill Mollison, the co-founder of permaculture, when he gave a talk in Stroud in 1992. He gave an amazing talk (still one of the most inspiring I ever attended) about permaculture and the need to live simply, and then in the break I went outside and there he was smoking a cigarette. "I wonder", I thought, "if I should point out the contradiction here, smoking a developing world cash crop that he has just been criticising…". Seemed to me though, as I thought about it, that here is a man who has done more in terms of promoting sustainability and permaculture than I can ever hope to do, and who on earth am I to criticise…
It was the same with the Eden Project. Here is one of the most amazing things I have ever visited, which has done so much to put sustainability on the map, and although I might able to find things to criticise, really it would be somewhat churlish. We went on the day (quite by accident) when, much to my children's excitement, the Queen was visiting, to open the new Core building (which will be the subject of its own posting later – the building, not the Queen).
I did think as I walked around what would happen to the place when peak oil means that visitor numbers can no longer sustain the place. I thought that probably a community of people would settle around the Biomes, and reorganise them as food growing spaces. They really are the dream polytunnel for any aspiring grower! There is plenty of water there, good shelter, good solar access, fertile soil and the Biomes, so rather than heading for the hills with a shotgun and a bag of rice, I'm off to the Eden Project when things get tough, to build a little cob house on one of the terraces and grow potatoes all year round in the Biomes.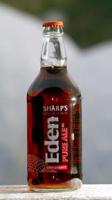 One of the great things about the place is its impact on the local economy. It is estimated that it contributes £700m to the local economy every year. They use some of their income to start local businesses, like a local beer, Eden Ale, that they were launching when I was there (very nice it was too). They say that about 87% of the food they use is locally sourced. They have mastered the idea that in order to really drive anything forward you need an income stream. Now they have that base they have the freedom to develop lots of other activities. I for one, was blown away by it. Do go, you won't regret it. Over the next 5 days I will be pulling out the 5 best things about the place, starting tomorrow with some of the best edible landscaping I've ever seen. Prepare to have your breath taken away (mine was…)!