30 Jun 2006
Making Elderflower Cordial While the Sun Shines….
As per the annual family tradition, we started making this year's elderflower cordial when most of the elderflowers were past their best. It is lovely to reconnect to these gorgeous creamy flowers and the unique smell of sun drenched elderflowers. I have just been picking off the flowers and my fingers are a lovely greeny yellow colour from the pollen. Here is our family recipe. Who it actually came from is lost in the mists of time, scrawled in the back of one of our cook books, but it does make a fine cordial.
**Elderflower Cordial.**
20 heads elderflower (as little green bits as possible)
Pick when the sun is on them and take off the tiny flowers with a fork/fingers…
3lb sugar
2 ½ oz citric acid.
2 lemons (sliced or squeezed)
On top of that pour 1 ½ litres of boiling water.
Stir two times a day for 5 days.
Strain and bottle (using an ordinary strainer)
Dilute to drink….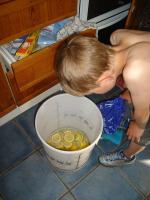 Easy peasy. Lovely with ice on a summers day. Summer in a bottle. Of course you can do lots of other things with elderflowers, champage, wine, fritters, and so on. If you have a favourite recipes, do send them in….