3 Jul 2006
Communicating Energy Descent …. Your Thoughts?
I had an excellent meeting last week with Dr Chris Johnstone and Dr. Stephen Rollnick, in Bristol, to look at how insights from addiction and in particular Motivational Interviewing can inform energy descent projects. It was great, really useful, the recording is presently being transcribed and I'll post it here as soon as I can. One thing that came up that I am keen to put in front of you all is a question that Stephen came up with, that we kicked about but didn't really resolve, and that I'd love your thoughts on.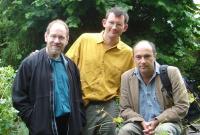 He asked, "if Totnes Town Council gave you use of the main sign post in the middle of Totnes for a year (unfortunately there is no such thing), what message would you put on it?" He was talking about how we present messages, and the importance of offering advice in such a way that people reach their own conclusions rather than being told. Rather than telling people how they should feel or what they should be thinking, we present information or ideas in such a way that they are able to reach their own conclusions. If you had free access to the main billboard in the town you are planning an energy descent process for, what would YOU put on it?