23 Aug 2006
Permaculture Modules – free to download.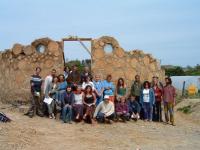 The **Practical Sustainability** course in Kinsale broke (and continues to break) new ground in many ways. As well as being the world's first two year full time permaculture course, one of its most fundamental breakthroughs was that new modules were added to the Vocational Education Committee's (VEC) list of approved courses which can now be taught in any Irish VEC college. When I wrote the modules, no-one in the VEC had ever heard of permaculture, but as the course became more and more successful, they began to recognise the contribution it was making. A number of people have asked me where they can get hold of the modules that I wrote and taught, so I have made them available here on **Transition Culture**. In the 'Essential Info' box to your right has been added a link called 'Permaculture Modules', you'll find them all in there.
There are four modules, Permaculture Design, Applied Permaculture (the more advanced one), Green Building and Sustainable Woodland Management. I must point out that they are specifically written to meet the requirements of the VEC, so if you are wanting to write modules for your local education authority, in the UK or elsewhere, you will need to rewrite these in their format, as well as adding your own materials and locally angle. If you are in Ireland, you will need the specific approval of Kinsale FEC, as, officially speaking, the modules were written when I was working there, and so belong to them. I can't imagine it would be a problem though.
The great thing about having these modules is that they allow a lot of flexibility in terms of how they are actually delivered. The module descriptors themselves offer a loose overview of what is to be covered, and how it is to be assessed, but they are in no way prescriptive, and I was able to design a very practical, exercise-based course around that. The assignments in the first permaculture module owe a debt of thanks to Patrick Whitefield, who had already developed something similar that I drew inspiration from. I hope you find them of use, and that they help you to establish your own courses elsewhere.