24 Aug 2006
ASPO 5. Jeremy Leggett Intertwines Peak Oil and Climate Change.
**Jeremy Leggett. Peak Oil, climate change, and the daunting arithmetic of carbon fuels.**
*By the time Jeremy Leggett stepped up to the podium, I was starting to wonder whether I was the only person in the conference who had ever heard of climate change. We had heard Hirsch telling us with a straight face that we should dig up all the tar sands and turn all the coal into petrol, and Bauquis arguing that we needed 3,000 new nuclear power plants. I am used to people arguing for climate change solutions with no peak oil awareness but rarely the other way round.* *Leggett told it like it is, and convincingly and with great urgency weaved the argument that peak oil and climate change are in fact, two sides of the same problem. You can see the Powerpoint of his talk here.*
"This talk will look at peak oil in the context of climate change, the conflagration of two huge problems, what we might think of as the Two Great Oversights of our times. They are certainly the two biggest problems we fact, and they have an interesting set of comparisons. The biggest single difference is that excepting the USA, there is pretty much a consensus on climate change now, whereas peak oil is still a minority view, although it is certainly less so thanks to the work of ASPO. It has moved from being a hobbyist issue to a more general one.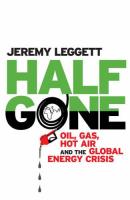 Part of my work is advising the Government. I don't know of a single UK Government official who is worried about it. The main linking theme is that the survival technologies are the same, alternative energy and efficiency, which need to be fast tracked. We need to be able to trigger the survival reflex.
4.5 billion years ago there was carbon without life. Then the atmosphere began to change. Oil was created 150 and 90 million years ago. I would like to offer a history of our recent past.
**1859.** Man drills oil for the first time, in Pennsylvania.
**1914.** World by this stage is already running on oil.
**1930.** Peak year of discovery in US48, although no-one knew it at the time.
**1956.** Hubbert predicts that world oil production will peak in 1971.
**1965.** Peak of world oil discovery.
**1973.** The first oil crisis hit, a huge shock despite being only a 9% drop, by then we also knew that Hubbert was right.
**1978.** The second oil crisis, triggered by the Iranian Revolution. Led to a real fear of depression, but 3 things came to our rescue, fresh oil supplies coming in, new reserves and no long food supply chains, none of which we have to fall back on this time round.
**1981.** The crisis was over and it was a peak year for the construction of refineries, rigs and pipelines.
**1985.** Doubts begin. You mean we're not sure? The OPEC upwards revisions.
**1989.** Jim Hansen, climate scientist of NASA tells a Congressional committee "it is time to say that global warming is here