30 May 2013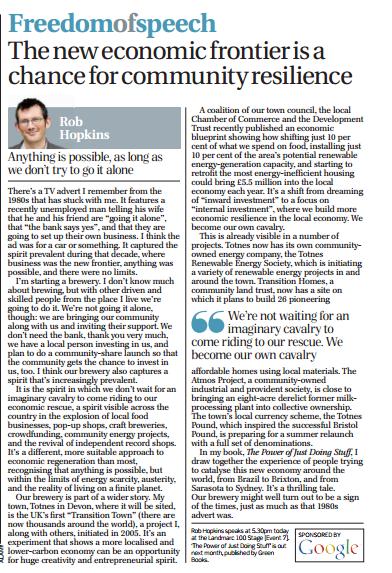 I spoke at the Hay Festival last week, a very well-attended and enjoyable session.  Every day during the Festival, the Daily Telegraph produces 'The Hayley Telegraph', a free magazine given away at the Festival, which includes articles by, or about, some of that day's speakers.  Here is the article I wrote for the edition published the day I spoke.
The new economic frontier is a chance for community resilience
There's a TV advert I remember from the 1980s that has stuck with me. It features a recently unemployed man telling his wife that he and his friend are "going it alone", that "the bank says yes", and that they are going to set up their own business. I think the ad was for a car or something. It captured the spirit prevalent during that decade, where business was the new frontier, anything was possible, and there were no limits.