12 Jun 2013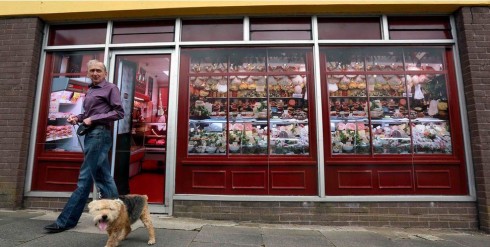 If there was one picture that captured the times we are living through it is this.  It appeared on the BBC website recently with the following caption:
Kevin McGuire walks his dog past a vacant shop in Belcoo, Northern Ireland.  The empty shop is one of a number that have had graphics placed on the windows to make them look like working shops ahead of the G8 summit which takes place nearby later this month.  
Let's take that a bit more slowly.  Here is a shop, one of many that has gone out of business due, among other things, to the growth-fixated policies of the G8, situated in a place G8 ministers will be driven past en route to their summit.  Rather than their being able to see how things are actually unfolding in the real world, the division and misery being caused by their approach to the economy, the windows have been plastered with stickers that present it as a fully-stocked, thriving shop.