10 May 2013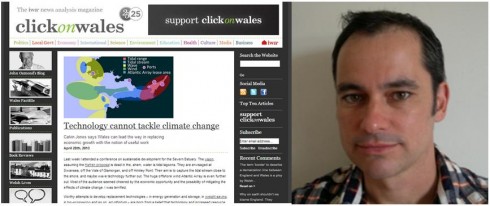 The other day I read an excellent piece by Calvin Jones, Professor of Economics at Cardiff Business School (see right) called Technology Cannot Tackle Climate Change.  Having argued that, due to a range of issues, economic growth is no longer possible, he writes:
"Faced with these issues it is easy to withdraw into either a belief in an economic growth fairy, or into passive, nihilistic depression. But this is not necessary. Many societies historically have functioned perfectly well without ever-increasing levels of growth and complexity".
He also wrote "the cognitive dissonance we feel, as GDP figures rise, and we feel ever more tired, stressed and scared, is real, and must be challenged", rapidly becoming one of my favourite quotes.   Given the challenges of condensing complex arguments into short articles, I thought it would be good to have a chat with Calvin.  So what follows is either the audio file to listen to while you're hoovering the stairs, or a transcript of our talk.