20 Sep 2006
A Top of the Range Solar Shower….
Earlier this summer I went to the Big Green Gathering, a rather excellent festival in Somerset celebrating sustainability in its many forms. One of the highlights for me was a fantastic solar shower. One of the 'groundrules' at BGG was that all the energy came from solar and wind, and that no generators were allowed onsite. One enterprising soul created a fantastic solar shower and set it up by one of the main routes through the site, under the name of Spiral Sun Solar Showers (watch out for it when it floats on the stock market in a couple of years) and had queues all day of people wanting showers. The whole thing was powered by the sunshine, and I was hugely impressed by it.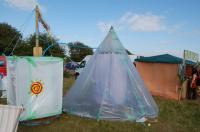 The idea was very simple, coiled black pipes within a clear plastic tent heated the water as the sun shone on them, and were long enough to ensure that by the time the water made it through the pipes it was warmed. I was amazed to hear that the shower had been in use all day long without a break, and had provided hot water showers for many hundreds of people each day. Surely a fantastic example of appropriate technology!
I didn't totally figure it out… I wasn't sure how come if no-one went in it for a while it wouldn't take the skin off the person who then used it. I didn't see how cold water could be added to keep it from getting scalding, but I'm sure it was something very simple. It reminded me of when I was building my house and the water we used onsite came from a tap about a quarter of a mile away, on a hot summer day it took ages to get the water cold for mixing lime mortar!
It was the fact that it would just keep going that really impressed me. Also at the Big Green were wood fired saunas, sweat lodges, and various other kinds of showers. Not that solar or otherwise I managed to get any of my kids anywhere near a shower over the whole time! Ah the joy of summer festivals…. those endless soapdodging summer days…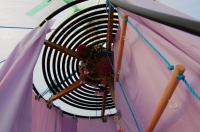 If anyone out there can explain how such a set up would have been able, in the middle of a field with no obvious thermostats or what have you to keep the temperature from getting too hot, I'd be fascinated to hear. Certainly after a few soapfree days, the plastic pyramids of Spiral Sun Solar Showers were a beacon of hope shimmering on the horizon!