13 Oct 2006
A Great Game to Wake People Up in the Middle of Your Event.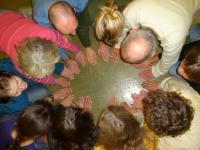 Here's a nice game for you to use in your workshops or talks just at that moment when you see that the eyelips are starting to droop and you want to wake people up a bit. Divide people into groups of 6-12 and tell them to get on their hands and knees in a tight circle with their shoulders touching. Then tell them to move their hands, so that rather than having their hands in front of them, they have the person on their right's right hand and the person on their left's left hand in front of them (see left).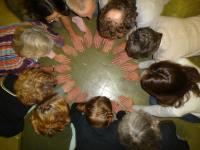 Check they have done this. Then tap someone on the shoulder and tell them to slap the floor, sending a tap clockwise around the circle, so after they slap the floor, the person on their right does and so on. The slap goes round the circle until someone slaps twice, which changes the direction. Anyone who slaps when they shouldn't has to remove the offending hand from the circle. Keep playing until either someone is the only remaining player (and thereby the winner) or until peoples' knees hurt too much and they want to stop.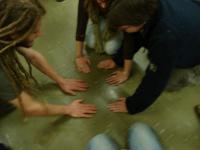 The key to the game is how confusing it is knowing which is your hand and which isn't. It is very good at reviving people, they have to think, they get to laugh, and they get to change position. It is one of the games I have up my sleeve for when the energy starts to drop.