9 Nov 2006
A Trip to the Agroforestry Research Trust's Forest Garden.
**Notes from A Trip to the Agroforesty Research Trust's Forest Garden, Dartington, Totnes, Devon. Friday November 3rd 2006.**
*******************************************************************************************************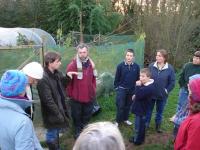 Martin Crawford started his forest garden at Dartington 15 years ago. It has now reached a point where it is very developed, and was referred to in Dave Jacke's Edible Forest Garden books as the best example of a forest garden he has seen. Martin is internationally recognised as one of the foremost practitioners of agroforestry in the world, (but amazingly very few people in Totnes have heard of him!).
The forest garden covers about 2 acres, and is filled with a dazzling arrany of plants, chosen for their edible, medicinal or other uses. In essence, a forest garden is a garden modelled on a natural woodland with its many layers, but which only uses species which are functional, be it fruiting plants, medicinal, or any of a wide range of uses. Martin also runs the Agroforestry Research Trust who produce information literature as well as an extensive catalogue of trees, seeds and plants. He showed some of the Skilling Up For Powerdown students round, and introduced us to a number of unusual trees and shrubs.
The first tree we visited was **Szechuan Pepper** (*Zanthoxylum schinifolium*)(see right), a tree that grows to about 5 metres. After 12 years it produces around 1½kg of small fruit which are like pepper corns. These can be dried and ground, being a pepper substitute. It is a high value crop, being worth about £450 per kg, so each tree could yield about £675 a year, more than many farmers earn from 1 acre. It tasted just like a spice my partner brought back from India, which the Tibetans call "erma", which is used in their noodle soups. It does amazing things to your tongue, making it feel as though it's been taken over by some strange tingling sensation…
All over the ground in the first part of the garden we went into was **Japanese Blackberry** (*Rubus tricolour*), a low growing, shade tolerant shrub. Martin grows it more as a thick ground cover that, as a byproduct, produces an edible berry, which looks like an orange raspberry, and fruits in July and August. He also grows various **Eucalyptus** species, as medicinal trees. There is a very medicinal oil in the leaves, which on a larger scale can be made into essential oils, but which can also be put into boiling water and used to make a steam bath to ease congestion with a cold.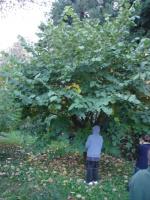 One of my favourite discoveries was the **Plum Yew** (*Cephalotaxus harringtonia var. drupacea*). It looks like a small yew tree, grows to about 4 metres high and makes a fruit which looks like a dark brown acorn, pointed at both ends. It is delicious, tasting like butterscotch, rather like a creme brulee to me (I was alone in this opinion!). He grows a **Large Leaved Lime** (*Tilia platyphyllos* – see right) as a salad plant. The leaves are edible like salad, and Martin's tree has been coppiced, meaning it makes leaves lower down than it would otherwise do. Martin harvests the young leaves as salad green throughout most of the growing season.
He showed us a **Flowering Quince**, often found in peoples' gardens as an ornamental, but most people don't know that it can be eaten. It is sometimes known as the Northern Lemon. It is not a fruit you can just eat, like an apple, rather it is cut into small pieces and sucked like a lozenge, tasting like an acid drop sweet. He grows a range of **bamboos**, both for both timber and for food. Apparently they emerge from the ground at the diameter they will be for the rest of their lives, they just grow taller, incredibly quickly. Martin mentioned that it is the only plant he has ever actually heard growing!
The garden contains a number of nitrogen fixing trees and shrubs, adding the nitrogen to the soil that otherwise would need to be provided artificially. These include **Italian Alder** and various **Acacias**. He grows a variety of **Hawthorns**. Even though our native hawthorn isn't much to speak of as edible fruits go, there are other varieties from around the world that have more going for them. The Chinese Hawthorn is very productive, large red fruit that are best cooked, and a couple of other American Hawthorns which were a bit sweeter.
He had a **Medlar** tree, a fruit prized by the Elizabethans, which is picked when the first frost has been on it, stored for a couple of weeks in a cool place and then eaten. It has a flavour a bit like date puree, and is often eaten with brandy and cream. Martin makes medlar jam. He had a large Mulberry, which he has to keep top-pruned to stop it getting too big. His variety is the **Illinois Everbearing Mulberry** which makes a black fruit like an elongated raspberry, over a long fruiting season throughout the year.
The ground cover in most of the Forest Garden was perennial herbs, such as a variety of **mints**, **tansey**, **oregano** and **lemon balm**. These act as a ground cover and also, Martin believes, produce antiseptic oils to the health benefit of the garden as a whole. They are also useful herbs, for medicinal and culinary purposes, as well as attracting beneficial insects. He grows his **raspberries** not on canes, the logic being that as the fruit grows, it weighs down the plant, making it harder for the birds to find the fruit. He has some recently planted **Almond** trees, which have yet to fruit, but which he feels confident will.
One of the other trees that was an exciting discovery for me was the **Chinkapin**. Walnuts and sweet chestnuts are huge trees, far too large for any garden. The Chinkapin however grows to about 5 metres, and looks like a sweet chestnut, producing a smaller nut. So now a garden owner can grow nuts too! It was a fascinating tour, Martin being incredible knowledgeable on the subject. Despite the increasing darkness and the subzero temperatures, it was a great trip.