13 Mar 2008
The Official Unleashing of Transition Forest Row!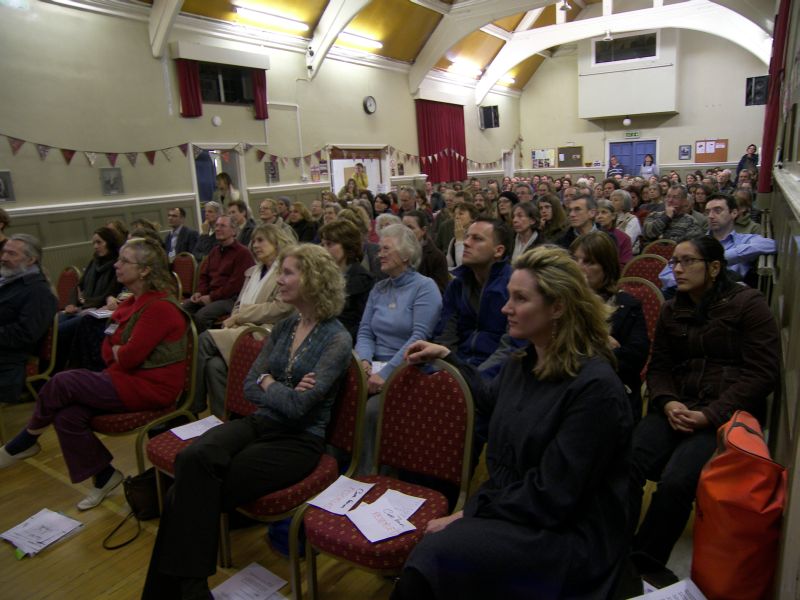 Last night saw the Unleashing of the village of Forest Row in Sussex. The group that formed Transition Forest Row have been working hard for the last year, organising talks, film screenings and other events, and the Unleashing was the culmination of that, being the point at which the process is thrown open to the community to take it and make it theirs. Over 150 people packed into the Town Hall in Forest Row, which had been decked out with handmade bunting (never done a talk in a hall with bunting before!), with local cider, beer, apple juice and champagne available, and with a stage decorated with young fruit trees (including greengages, my favourite fruit tree).
The evening opened with a poem and was then introduced by Charlene Collison who welcomed everyone and told the story thus far of Transition Forest Row. The steering group emerged out of a workshop run by Mike Grenville which explored the nature of the challenges facing humanity, and whose participants were drawn to the Transition model as a positive way of responding to the accumulated bad news they had heard.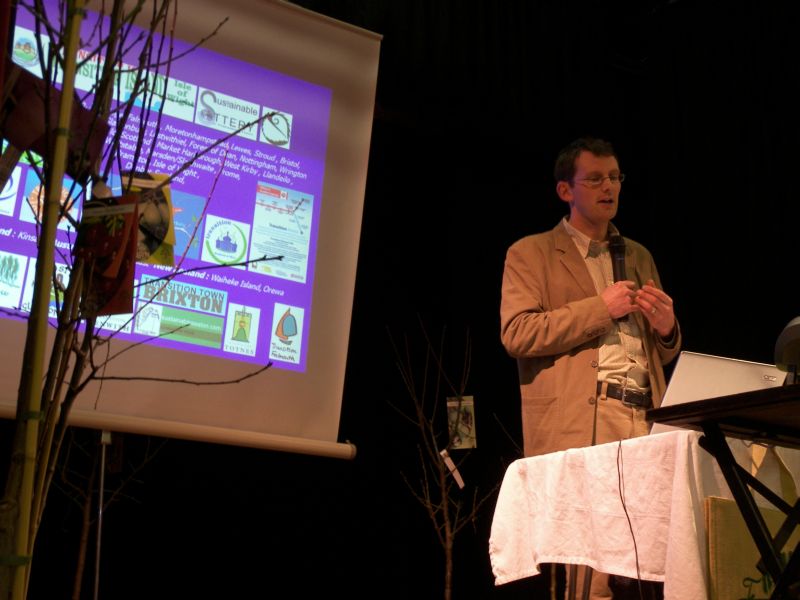 I was the first of the two speakers, and I gave an introduction to the peak oil question, and also to why climate change is a greater challenge than the IPCC have suggested. I spoke about why we have to look at peak oil and climate change together, about why that means that we need to look at resilience building alongside cutting carbon and about the principles that underpin the Transition model. I gave an overview of the 12 Steps illustrated by the story of Transition Town Totnes and concluded with a look at the oil crises of the 1970s and how they stimulated amazing innovation and creativity rather than rioting and cannibalism.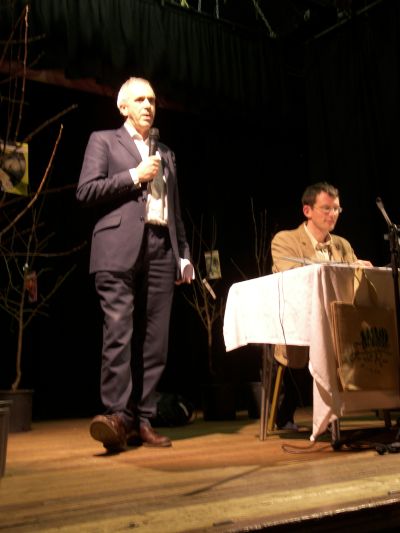 After me, Patrick Holden, director of the Soil Association, spoke about how encountering the Transition model had made him radically rethink his life, his work and his farm, indeed it was almost exactly two years to the day that he heard a talk I gave at Schumacher College. Since then, he has worked hard to try and reduce the impact of his farm, installing renewables, reorienting to local markets, diversifying his on-farm enterprises. He had been trying to support his local Transition initiative (in Lampeter) in order (among other things) to generate enthusiasm in the town for local produce. In his work with the Soil Association he has been trying to reorient the Soil Association as a key supporter and driver of Transition food and farming.
This was followed by questions, which looked, among other things, at how to maximise engagement, the role of local food production, the role of local currencies and even one, which I have never been asked before, about whether actually we don't need to worry about peak oil because of the abiotic oil theory, which is the absurd idea that oil is not a fossil fuel but is a kind of primordial ooze generate deep in the earth, all we need to do is drill deep enough. This theory has been comprehensively debunked by various writers, most thoroughly by Richard Heinberg.
After this, Mike Grenville talked about where next for Transition Forest Row. This is now your process, he told the audience, and forms on the seats invited the audience to indicate which working group they want to get involved in. He closed with the oft-cited quote, "if not now, when, if not here, where, and if not us, then who?"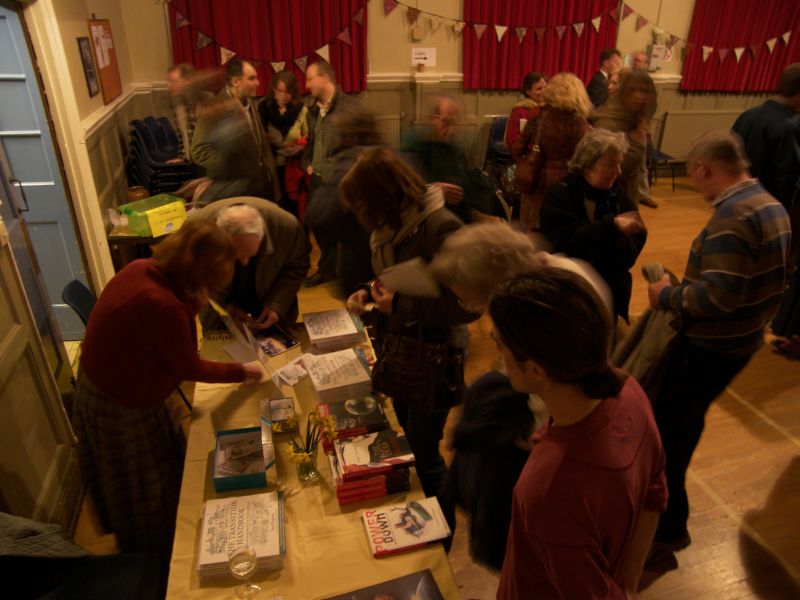 The evening felt celebratory, positive and inspiring. Transition Handbooks sold like hot cakes. People mingled to chat, debate and connect for a good while after the talks finished. Those who had travelled from nearby emerging Transition projects such as Hastings, Tunbridge Wells, Nutley (what a great name for a Transition Initiative) and others mingled and soaked up the atmosphere to take back to their own communities. Unleashings are designed to be the evening that historically people will look back to as the point where the whole process started, and in the packed hall, with its bunting, I got the feeling that that was happening.
Where it all goes next we shall see, but if last night was anything to go by, something wonderful is emerging in the Sussex village of Forest Row.
The Unleashing is followed this Saturday by a Transition Children's Festival from 1-5pm, which will be followed by a Barn Dance from 7.30pm. For more details see here.