23 Apr 2008
The Joy of Socks
A while ago in Totnes we ran a course on sock darning. It felt to us like a very important skill to start retraining people in, and one of the many useful things the older generation could pass on to the younger. Although some people thought it a great idea, I did get a lot of ribbing about it (if you'll excuse the knitting pun). However, in the subsequent months, sock darning has started to catch on. It's the new salsa.
Our local wonderful organic clothing company, Greenfibres, recently put a great film about sock darning on YouTube (see below), which demystifies this most basic of arts so rapidly being consigned to the dustbin of history.
My wife did the sock darning course and took one of my holey woollen socks along, and returned with it darned. She did very well for a beginner, but I suspect that sock darning is one of those skills that takes an hour to learn and a lifetime to master. I hobbled about with what felt like a lump of blutack stuck to the back of my foot for a couple of days before it was consigned back to the sock drawer.
Of course, learning to darn socks is one thing, but the reality is that less and less of us actually wear darnable socks nowadays. We prefer the lycra enhanced, stretchy numbers being produced in China by the squillions, which don't take too kindly to being darned. It is at this point that we turn to one of the most fascinating websites I have recently come across, the bizarre yet rather wonderful NetGranny.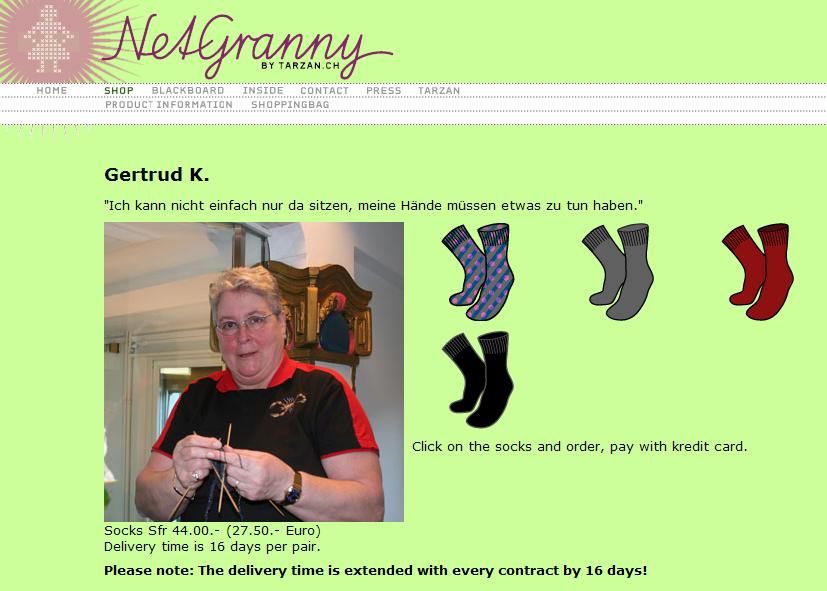 The idea is simple. A number of highly skilled sock knitting old ladies in Germany are shown online, each of which will knit personalised socks for you. All you have to do is pick your granny, click on her, and her knitting services are listed. You then send in your payment, and a couple of weeks later, a pair of handmade woollen socks pop through the letterbox. Wonderful.
It is using the web to support what resilient skills we have left. There is, however, something rather disturbing about the poor English translation on the site, which could lead to one thinking, on initial glance at least, that one has stumbled across an altogether more seedy website…
Come into the living rooms of our NetGrannys. Order your socks by clicking on the photo of your granny of desire. The Grannies marked with a star knit now also muffs!
I am inclined to trust, however, that it is all very much above board, and that this is a service we should look to support, indeed to expand, engaging our own local elderly knitters. At first glance, the socks produced by our elderly Bavarian knitting friends appear somewhat pricey. However, they are the sock equivalent of a handmade table, a handthrown pot, a bespoke piece of jewellery. What price can one put on such artistry, such craftsmanship? I love the idea, in the same way that supermarkets now try and put faces to their produce, so you can see who grew your potatoes or reared your lamb, that you can know which elderly knitter made your socks.
Hopefully, having read this, when you take your socks off at the end of today, you might pause to reflect on the potential role that these essential undergarments have in your life, and how you might plan, as it were, to Transition your socks. You won't be in it alone. Agnes, Doris and Ingrid are at the ready, needles in hand, poised to enlighten and enliven your regaining control of this most essential of garments.