11 Jun 2008
Water, Carbon Emissions and Mind Training
I have to confess I had never really thought about this before. I strive to be mindful in daily life of not using more heated water than I need to, to keep energy bills and CO2 emissions down, and also of not wasting cold water, particularly for watering the garden, due to its being a precious resource. However, I had never really considered the carbon implications of the water that emerges from our taps.
According to a piece by Waterwise, the whole process of getting water to and from our houses, as well as cleaning it and making it safe to use, uses a whole 1% of the total UK energy budget. Makes sense I guess when you think about what decontaminating the water into which we chuck God knows what would entail. Although Waterwise's headline grabbing statistic that "the average family emits the equivalent of two transatlantic flights in carbon through their water consumption each year" has to be taken with a pinch of salt given that it also includes the energy taken to heat the stuff, I have to say I was still surprised.
South West Water (my local water company) estimate that water generates 177g of CO2 per cubic metre (1000 litres) and sewerage processing emits another 322 g per cubic metre. So compost loos and living on rainwater are clearly a desirable way to go, although I'm not there yet in my 1963 dormer. Clearly making water go as far as possible is a desirable thing anyway, but it appears it is also a key part of a family carbon reduction strategy. It got me thinking anyway.
So, this week, I have done two things as part of doing my bit. Firstly I bought a monster rainwater tank (see right), which takes 750 litres (enough to fill 80 watering cans). That is my bit of infrastructural change, and I hope it will mean I almost never need to use a hosepipe to water my veg beds. Unfortunately I am having a spot of bother installing it, given that the filter and all the connections are designed for people with round downpipes and mine are all square, but I'll figure it out. This delay in installing it does however mean that I missed all of last week's torrential rain, which probably would have filled the thing.
The second thing is one of those "train yourself to do it" things… a behavioural adjustment rather than an infrastructural one. In my own life I find that once the infrastructural changes are in place they become commonplace. The harder bits are actually taking the step to putting them in in the first place, and making behavioural changes.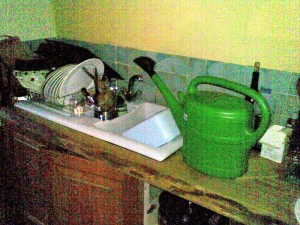 So my behavioural thing is this. In my house, when I run hot water in the kitchen, it takes a while for the hot water to come through, and in the meantime I am stood like a lemon watching water go down the plug hole. So what I do now is I keep my watering can by the sink, and every time I wash up I put the watering can in the sink first, and when the water is coming hot, I whip it out and pop the washing up bowl in instead (you can see my watering can finely poised, left; apologies for the rubbish picture, it was a bit dark and I don't have any light bulbs left in my kitchen, but that's another story…). Seems to work so far, and during the day, three lots of washing up, doing this three times, gives me almost a full watering can!
So, do me a favour and help me out here. Email me in a month and check if I am still doing it… Getting our heads in gear so they are just in a pattern of doing things in a particular way is one of the big challenges we have, and nagging ourselves into developing good habits is one of the things we need to help each other with. Next thing, anyone know a good place to get watersaving shower heads, and are they a fiddle, or do they just screw in to replace your existing one?