16 Jul 2008
10 Books I Am Reading At The Moment…
Once again the pile of books by my bed is reaching heights that are beginning to verge on the life threatening. I am developing the terrible habit of starting several books at once, and so I have about 10 books on the go at the moment (don't try this at home kids) all of which are wonderful and insightful in their own ways. I've done this listing-of-useful-books thing before, and it seemed to go down well, so here it is again….
These books probably reflect my interests at the moment, looking for new insights as to what makes people tick and, most importantly, what makes them change (for the application TTT is making for the Big Green Challenge), and also looking at leaderless structures and new thinking on collaborative organisations (for the Transition Network structure document, coming soon). You could do a lot worse than leaping into this pool of enlightening literature, each one deservant of being the only book by your bed.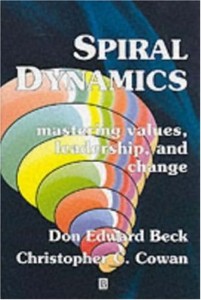 Spiral Dynamics: mastering values, leadership and change. Don Beck and Christopher Cowan. Blackwell Publishing.
I am a bit of a late-comer to looking into the subject of Spiral Dynamics, but it offers a fascinating analysis of our culture, and how we might turn it around in time to address the challenges of Transition. Offers an evolutionary overview of the stages individuals and cultures more through, and has very much got me thinking about how this overlaps with the work done by Transition initiatives.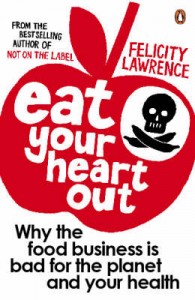 Eat Your Heart Out: why the food business is bad for the planet and your health. Felicity Lawrence. Penguin.
An in depth analysis of the current state of the global food system, working through grains, meats, fats and so on, and setting out clearly the perilous and earth-damaging ways in which we feed ourselves. Also provides a fascinating insight into how the Transition concept is bedding down in the wider world, as Lawrence dedicates an entire chapter to a car journey with me and Patrick Holden and how a peak oil awareness entered her life on a backseat driving through Wales.
Shock Doctrine: the rise of disaster capitalism. Naomi Klein. Penguin.
Essential reading which puts the work we are doing with Transition initiatives in an broader and much more alarming context. Sets out how what started in South America as Milton Friedmann-inspired economics, which required economies to be 'shocked' into becoming unfettered 'free' markets, accompanied by profound social shocking, ie. torture, disappearances, genocide, has now gone on to underpin much of modern economics. Profoundly alarming, but possibly adds an insight that in the same way that the Shock Doctrine looks for upheavals and instability as an opportunity to impose itself, perhaps we need to conceive of Transition as being something that can be ready to do the same, much like how 'seed bombs' can be used to colonise bare ground with beneficial species immediately after disturbance. Not a book that does good things to one's faith in human nature.
Wikinomics: how mass collaboration changes everything. Don Tapscott & Anthony D. Williams. Atlantic Books.
This book argues that the future of business, of technology, of publishing, or most things in fact, lies in collaborative working and sharing information. Abounds with amazing stories of people letting go of their exclusive authorships and producing wonderful, unexpected and rich work. A fascinating insight into the way we could be working, although it does leave one wondering whether the internet is actually sustainable in the long term, and if not, whether these collaborative approaches would struggle without the technology which made them possible in the first place.
We-Think: the power of mass creativity. Charles Leadbeater. Profile Books.
An inspiring look at the role of collaborative working, with the book at a good model of the product of collaborative working. 'We-Think' was published online as a draft and then comments were invited from whoever was interested. A passionate statement that the future lies in working together more rather than less, and through collaborating our work can be more than the sum of its parts.
The Starfish and the Spider: the unstoppable power of leaderless organisations. Ori Brafman & Rod. A. Beckstrom. Portfolio Books.
I am going to review this book in more depth soon, in essence it is a fascinating look at new organisations, modelled on the starfish (cut off its leg and the leg replicates into a new starfish, rather than spiders, where the spider sits in the centre of a web). It analyses the power of leaderless organisations, and has proved a great inspiration in the design of the Transition Network. One of the areas it places a lot of importance in is the role of the catalyst, and their analysis of what makes a person a good catalyst is fascinating.
Depletion and Abundance: life on the new home front. Sharon Astyk. New Society Publishing.
I have been fortunate enough to see an advance copy of Sharon's forthcoming book, which I think you will enjoy greatly. It provides a rarely heard perspective on peak oil and on the changes already underway, from a point of view rooted in family, the home, the land and the community. Beautifully written, this book will challenge many assumptions and offer timely insights which have thus far been absent from the peak oil literature.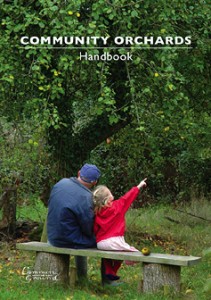 Community Orchards Handbook. Sue Clifford & Angela King. Common Ground.
Another utterly gorgeous book from common ground, a must for Transition initiatives planning to set up community orchards. Everything you could ever want to know about setting one up, legal, organisational stuff alongside practical tips and inspiring case studies. Comprehensive, visually sumptuous and based on years of practical experience, in a way that Common Ground books usually are. A more detailed review will follow soon.
Alcohol Can Be A Gas: fueling an ethanol revolution for the 21st century. David Blume. Mother Earth News books.
I can't claim to have done more than skimmed this vast, encyclopaedic tome yet, but I look forward to it. Although I remain deeply sceptical about the role biofuels such as ethanol will actually end up playing in a post-oil work, look forward to see how he handles the whole scaleability issue, and was fascinated by his critique of Pimentel's work which is so critical of the EROEI of biofuels. This feels like about 5 books put into one, and I wonder how many people will read it from cover to cover, but as a treatise on the role of local ethanol production, this is beyond compare.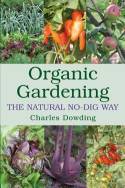 Organic Gardening: The natural no dig way. Charles Dowding. Green Books.
One that I have found very helpful this year in the garden. Focuses particularly on no-dig approaches which are not usually the core focus of most gardening books. Charles runs an extraordinary market garden and this book condenses much of the practical experience he has gathered over the years. Very useful for its advice on individual vegetables.
Have you been reading anything recently that you think we ought to have a look at? Do post your suggestions below…