11 Sep 2008
Lewes Pound launch… a night to take the breath away
There are some events that arise out of this Transition phenomenon that really take one's breath away, and which embody the idea that in doing this work we are doing something historic, something that will be celebrated by future generations. I had the enormous honour of attending Tuesday night's launch of the Lewes Pound, an evening that I think I and many of those who were there will remember for many years to come.
It was already clear before I set off for Lewes that it was going to be an extraordinary evening, judging by the amount of media interest. I had calls from the Daily Mail, the BBC and other journalists, all fascinated by this story of a town that prints its own money. By the time I reached the Transition Town Lewes office, it was a buzz of people sorting Lewes Pounds into envelopes, giving media interviews, making final touches to the Lewes Pound website, and preparing displays for the evening.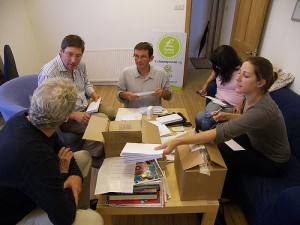 The actual design of the Lewes Pound had been a closely kept secret, and the envelopes into which the Pounds were being sorted had sticker on the back reading "Please Don't Open Until 9pm!!" I joined the group sorting Pounds into envelopes, and we discussed the currency and its potential, as well as the dedicated hard work that had got the currency to this point of being launched.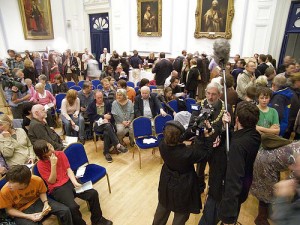 At about 5.30pm, I headed down to Lewes Town Hall, which was already a hive of activity, photographers from various dailies milling about, as well as several film crews, one from Japan. I did a few interviews and met various familiar faces, and the hall started to fill up. By 7.30, the place was packed. There must have been several hundred people, filling all the seats and standing several rows thick around the side and back walls. The main feature of the stage was large replicas of the front and back of the Pound, covered with a cloth.
The event opened with Oliver Dudok van Heel of the Transition Town Lewes local currency group welcoming everyone, giving them an overview of the evening, and reminding them not to open their envelopes until later. The first speaker was Stewart Wallis, executive director of the New Economics Foundation. He gave a rousing overview of what money is, how it works, and why local currencies matter. He cited research looking at how if just 4% of money in an area is cycled locally, its multiplier effect can generate more money than grants currently do. It was a fascinating and passionate argument for the role of local money, and he finished by raising his glass to the success of the Lewes Pound.
I then spoke, putting the Pound in the context of Transition, and giving a sense of how the Totnes Pound has been working. A few people asked me for the text of my talk, I'll post that tomorrow. I was followed by Guardian columnist Polly Toynbee, who has strong connections with Lewes, who talked about the current economic situation, how the idea that growth is good for everyone is a nonsense, and how the growth in incomes has only really taken place among the very rich. At a time of economic downturn, she argued, what could be more appropriate than Lewes, a town with a long history of radicalism and contrariness, should choose that moment to start printing its own money?
This was followed by questions from the audience, which covered a range of areas, both about the wider idea and also the particulars of the Lewes Pound. Oliver then ran through the practicalities of the currency. The notes can be exchanged 1:1 with sterling at 4 issuing points or through the Lewes Pound website. They can then be spent in over 70 shops that have signed up for the scheme. People are encouraged to ask for them in their change, and to keep them circulating in imaginative ways. For the first two weeks, in order to launch the scheme, they are being sold at LP£22 for £20 sterling.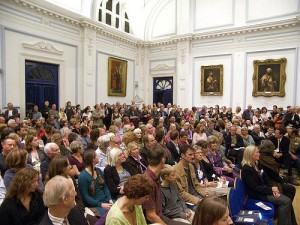 When Oliver had finished, the Mayor of Lewes , Michael Chartier, was invited to launch the currency. After a very short speech, he invited the audience to countdown, 5,4,3,2,1… and then to tumultuous applause, the sheets was pulled off the large Pounds, and for the first time the first Lewes Pound for 113 years was unveiled to the public. The note features the head of Thomas Paine, the 18th century pamphleteer, revolutionary, radical, inventor, and intellectual who lived in Lewes, and is adorned with a quote from him, "we have it in our power to build the world anew". The beautiful notes are printed on proper DeLaRue bank paper, and have a number of security features, including watermarks, ultraviolet fibres and individual numbering.
Before people were then invited to party, there were two auctions, firstly of the framed 00001 first Lewes Pound (it went for £165) and secondly of a case of the 'Quids In' beer, brewed by local brewery Harveys in celebration of the launch (which went for £50). Then, sustained by a sumptuous spread of food provided by local delicatessen Bill's, and watered by a bar run by Harveys (with 'Quids In' naturally available, both on tap and by the bottle), the festivities began, thanks to local band SkaToons.
I spoke to quite a few people who said they had come expecting to be inspired, but not to find the evening as touching as they did. Many of them said that if felt like an historic occasion, and that there was a 'buzz' to the whole occasion which had deeply touched them. A few folks had travelled from nearby Transition initiatives, such as Brighton and Forest Row. There was much discussion, laughter and enthusiasm.
When I eventually got to bed, it was very hard to get to sleep. I wrote in the Transition Handbook;
"It is easy to spend many sleepless nights worrying about them (peak oil and climate change) – many of us have. With a small shift in thinking though, such as that laid out in this book, we may find it hard to get to sleep due to our heads buzzing with possibilities, ideas and the sheer exhilaration of being part of a culture able to rethink and reinvent itself in an unprecedented way".
I imagine that a fair few people found it difficult to sleep after this wonderful event. I often remark that Transition events need to have a sense of history to them, a sense that future generations will put a plaque up to what they initiated, and this event had that in spades. Many congratulations to all involved, to the people of Lewes for being part of something so professional, so well thought through, and so timely. There was a power to the whole thing which will stay with me for a long time. May it be a resounding success.  I heard from Adrienne that of the 10,000 notes printed, by the end of today, there are only 1,000 left, so they may need to print some more!  Amazing.  Here is the film of the evening that Mike Grenville of Transition Forest Row made with his camera (thanks also to Mike for the photos I have used here)…