19 Sep 2008
A Great Transition Event at Conway Hall, London: hope springs forth in the cities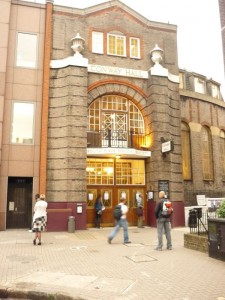 Attended a wonderful event in London on Tuesday night, organised by Wise Women, called "Transition Towns Come to London".  It took place in Conway Hall, and was, I realised when I got there, the first actual public talk I have ever given in London.  A few people have asked for the presentation I gave, you can download it here, but as usual with my presentations, it probably doesn't make much sense without notes as to what I actually said.  Mike Grenville started the evening with a powerful overview of peak oil and peak water, and of the need to act.  Then I gave my talk about Transition, during which I read out a rather wonderful quote by Brian Eno about the power of visioning given to me by Lucy Neal of Transition Town Tooting just before the talk.  I think I'll go on to use it regularly…  A few people asked me for it, so here it is…
"Humans are capable of a unique trick, creating realities by first imagining them, by experiencing them in their minds.  …As soon as we sense the possibility of a more desirable world, we begin behaving differently, as though that world is starting to come into existence, as though, in our mind's eye, we are already there.  The dream becomes an invisible force which pulls us forward.  By this process it begins to come true.  The act of imagining somehow makes it real…  And what is possible in art becomes thinkable in life".

Brian Eno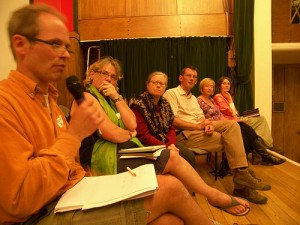 After my talk, there was a panel with Suzy Edwards of Camden Climate Action Network, Duncan Law of Transition Town Brixton, Mary Fee of LETSLink, Lucy Neal of Transition Town Tooting and Hilary Gander of Transition Town Kingston (see right, with Duncan holding forth), with some very interesting questions from the audience.
Then everyone was invited to arrange themselves in the room based on which part of London they come from, organised around north, south, east and west.  Duncan and Suzy then moved around the room with microphones, listening in to what was already happening or which interesting new connections had been forged.
It was a fascinating evening, allowing a snapshot of who is doing what in Transition iniatitives across London.  While there are clearly issues of scale that apply in London but not in places like Lewes and Stroud, there are also tremendous opportunities offered by cities.  Earlier in the day I had met, with people from representatives of various London Transition groups and from local food organisations, Rosie Boycott, now the London Assembly's 'Food Czar'.  She is very enthusiastic, and we discussed many ways in which she could help Transition projects.  Everyone left with their heads buzzing.  The next day I visited Growing Communities in London, a wonderful project offering insight into the potential of urban agriculture, but I will write more about that next week. I headed home feeling that the seeds of something extraordinarily important and historic are sprouting in London.
Many thanks to Polly and all the Wise Women for organising such a wonderful event.