17 Dec 2008
Why I Love My Town (and why in the future we might all come to love where we live more than we do now)
I love my town.  Its not something we say a great deal in England.  In the US, people write songs about their towns and cities (Box Elder MO, Put Your Hands Up for Detroit, New York, New York…), as well as about the roads that join them together (Highway 61), but not here.  Other than bands like the Smiths, who sang songs about rented rooms in Whalley Range and other parts of Manchester, and one or two other bands (such as It's Immaterial's song about driving across England from the 80s), we don't have a strong tradition of celebrating where we come from.  I noticed when I lived in Ireland that when two Irish people met, one would ask where the other came from, and pretty much regardless of where the person came from, they would say "ah, a beautiful place".  Harder to do in England.  "You're from Slough?  Oh".   Anyway, last night saw my town at its best, and I want to write a few lines in praise of the place.
For the last few years, on the three Tuesday evenings in the run up to Christmas, Totnes holds its Christmas Festival, and the final one was last night.  What happens is that basically the High Street is closed to traffic (which feels so right that it is amazing more people don't wonder why it isn't done permanently) and filled with stalls, music, light, food, crafts, thousands of people, and all the shops stay open late.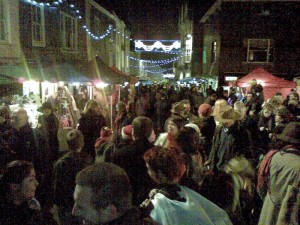 It is all done really well.  There are no tacky plastic snowmen, people walking around dressed as Santa or tinny Slade blaring out over loudspeakers.  Instead you will find local food, ordinary folks who have spent the previous couple of days making special chocolates in their own kitchens, making cakes and biscuits, mulled wine and chai, as well as local farms serving up their own meat in sausages and burgers.  There are people selling lovingly handmade soap, lotions and potions.
There are all kinds of buskers, schoolkids playing the violin, choirs, an amazing huge Samba band, Bert Miller and the Animal Folk playing outside the Animal Rescue shop, a few jazz crooners, and some drumming.  There is Thai food, Indian food, Chinese food, burgers, barbecues and all sorts of delicious edibles.  There are stalls selling locally made jewellery, local wood crafts, clothes, baskets and a whole range of other stuff.
The streets are packed with people, to the extent where it becomes hard to move around.  It is an amazing showing of the town at its best, beautifully lit, with music and food smells; the word most people had on their lips when I talked to them was 'magical'.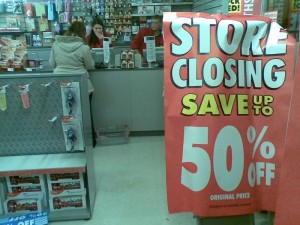 It was an amazing contrast with the Woolworths on the High Street.  As anyone who has been following the news will know, Woolies are bust, and are closing after Christmas.  I popped in because it felt like an historic moment to see the demise of something that had been such a part of our lives for so long.  People swarming around looking for bargains, like vultures picking over the bones.  An amazing contrast with the vibrant, creative, local culture outside.
In which of the two does a town find its resilience, its ability to weather the economic ice age rapidly enveloping this country?  In the ability of people to work together to create a market place that runs the length of its pedestrianised High Street, small traders bringing homemade foodstuffs from their kitchens and farms and goods to sell and trade in a way that also encourages creativity, music and art?  Or in these 'here today, gone tomorrow' chains, with no local loyalty or connection?  In Woolies you hear no laughter, no music actually made by real people, no creativity, so smells other than floor cleaner, nothing that celebrates life.
On nights like this one gets a sense of what our towns and cities could be like.  In the oral history work I am doing one gets a sense of the diversity and richness of the markets, of the street traders, of the web of local food producers, bakers, fishmongers, butchers, creameries that flourished here until the supermarkets and chain stores moved in.   Of the noisy, untidy, colourful, human-scale nature of the street markets, before the idea of buying and selling thins became sanitised and regulated to a point where it lost touch with people and place.  Our towns didn't just die, they were deliberately bumped off.  How we feed, clothe and amuse ourselves can be a cultural experience, about meeting and greeting each other, or it can be the cold, cynical and deadening experience that 10 minutes in Woolworths invariably is.
I do love this town.  This creative, eclectic, eccentric, frustrating, unique old place that has become home, is an amazing place to live.  A friend in town tells of her daughter going on a canoeing trip to Canada, and being in the middle of one of the Great Lakes in a kayak, seeing another boat and rowing over the say hello.  "Where you from?", she was asked.  "Totnes" she replied.  "Oh, Transition Town Totnes!" they said.  Another friend, Andy Langford of Gaia University, born and bred in the town, told me that he attended a public meeting in the US where he got a round of applause just for saying he was from Totnes!  While the town doesn't yet really deserve its reputation for being a cutting edge eco-town, on nights like last night, one can sense the potential, one TTT is doing its bit to try and draw out.
Not enough people write songs about their hometowns here.  I'm not a writer of songs.  I did write several many years ago, fairly dirgy affairs they were too.  I would hope though, as Transition Initiatives continue to embed themselves up and down the country, and lead to people reconnecting with place, that the creativity will pour forth.  I would certainly think that the inevitable and impending relocalisation of our towns and cities will give us more reasons to celebrate and enjoy where we live, more events like last night, more reasons to be creative and poetic rather than less.  Within the demise of Woolworths one can get a taste of the new world just waiting to be birthed.  May our Transitional acts of mass midwifery be fruitful.
NB. Apologies for the ropy photos, my camera is broken so these are taken on my phone.  Thanks and congratulations are also due to the Festival organising committee for pulling off another wonderful series of events.