18 Dec 2008
We Need Your Help: Seeking a Venue for the 2009 Transition Conference, and Some Designers
I have two requests to throw out today and see if anyone out there can help.  I'll go into more detail below, but in essence, Transition Network is looking for somewhere to host the 2009 Transition Conference and needs your suggestions, and Transition Town Totnes is working on its Energy Descent Plan, and needs some creative input from designers in order to maximise its brilliance.  So, in more detail….
Conference.
The first was in Nailsworth near Stroud in 2007, 2008's was at the Royal Agricultural College near Cirencester, but where will 2009's be?  It will take place on the last weekend in April, and what we are looking for is a host town or city or venue that can tick the following boxes;
be able to host, feed and accommodate up to 300 people
be relatively central in the UK
ideally be in a place where there is already a Transition initiative underway
be accessible by public transport
ideally somewhere that some people can camp
somewhere to be able to play football always goes down well
Our plan for the 2009 conference will be a step on from previous ones.  We are planning it so that it contains several events that are open to the wider public, one of which will be the 'Energy Descent Plan in 2 Hours' activity developed in London, as well as a couple of high profile speakers, which would mean that for the host town or city, they would be host almost to a 'Festival of Transition', which would boost their profile and generate a lot of interest in their work. It will also feature, wait for it,  the World Premiere of The Transition Movie.
We would hope that over time, the effects of hosting the Conference and the beneficial impacts of what it leaves behind, would mean that it would become like the Olympics, with many places wanting to host it each year.  So, if you either know of a suitable venue, or if you are a Transition Initiative who would like to host the 2009 conference, please contact either myself (robjhopkins (at) gmail.com) or Ben (benbrangwyn@transitionnetwork.org).
Designers
The Totnes Energy Descent Plan will be one of the very first such plans, and is intended to be quite wonderful and seminal.  In order to create something that takes people's breath away, and that conveys its vision of a powered-down, lower energy, infinitely preferable Totnes of 2030, we need input from some creative designers who can generate some graphic representations of what we are talking about.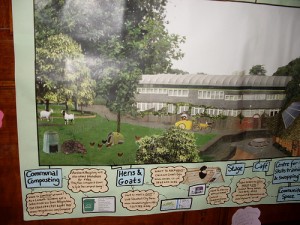 It should be really good fun.  Photoshopped images of familiar views of the town, but with nut trees, food gardens, solar panels and so on (such as the one done for Transition Brixton, see left).  Images used to really convey the visual splendour of a powered-down world.  Can you help?  This will be a very high profile document, which will go around the world, so if you feel you have skills and design genius to contribute, please either contact me (robjhopkins (at) gmail.com) or Jacqi Hodgson (jacqihodgson@gmail.com).