16 Feb 2009
An Update from Transition around the world
Last time I did this people seemed to really enjoy it, so here is a snapshot of news stories and Transition happenings from around the world over the past month or so, both successes and failures.  Transition Town Romsey launch a garden share scheme modelled on the one in Totnes, Transition Town Wivenhoe make good headway, but unfortunately, Malvern Council decide it is still too premature to endorse their local Transition initiative.  In Northern Ireland, Transition Omagh are starting to stir, and in the US, peak oil blogger 'Peak Oil Hausfrau", is wavering between feeling despondent and getting involved in Transition.
There is an interesting discussion about Transition in Kildare, Ireland, Transition Eudlo in Australia are getting excited about the publication of the Australia/New Zealand edition of Transition Handbook, there's a German review of the Transition Handbook, and the River Journal takes a look at Transition Sandpoint (Idaho) in the context of other local climate change initiatives.  Up in Scotland, Transition Forres is struggling to find land for allotments, something also being pressed for by Transition Town High Wycombe, while Transition Keighley plan a hydro scheme on their local river and Transition City Lancaster venture out and do their first stall at an event.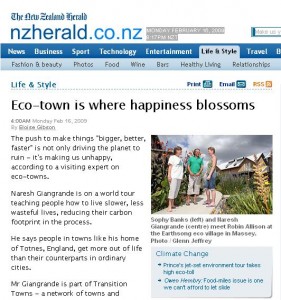 Transition West Kirby have been  busy planting trees.  In Canada, Transition Peterborough have been working with their local school, and Sophy and Naresh's Transition Training tour has made the local papers (see right).  One of Scotland's first Transition initiatives, Transition North Howe, is now unleashed! On an altogether odder theme, Transition Westcombe write beautifully about toast.