23 Feb 2009
"A Farm for the Future"… essential viewing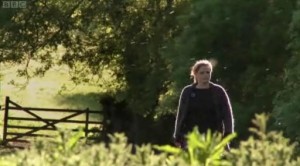 I know from email and comments I have had that many of you watched and loved Rebecca Hosking's programme that was shown on BBC2 on Friday called 'A Farm for the Future'.  The programme looked at Rebecca's father's farm in Devon, and at her wanting to rethink the farm in the light of peak oil.  The programme introduced the nation to such permaculture luminaries as Martin Crawford, Patrick Whitefield and the wonderful Chris Dixon, as well as to the work of the late Arthur Hollins (who I was fortunate enough to meet in the mid 90s).  You can watch the programme for the next 24 days here. 
It featured a crash course in peak oil from Colin Campbell and Richard Heinberg, a trip to the Soil Association conference, a trip round Martin Crawford's forest garden and much more besides.  There was some great archive film of horses and hayricks, and perhaps the bit that struck me most, some film from the early 80s of her dad ploughing their fields, followed by a riot of birds, all wanting to get at the soil creatures being exposed by the ploughing, which she contrasts with now, the tractor ploughing the same field, but with not a bird in sight, so impoverished has the soil life become.
It offered a powerful combination of looking back and looking forward, underpinned all the time by her clear deep affection she has for the farm itself. and the deep respect she has for both her father and his work.  It was surprisingly personal and moving.  For me, the proof of this programme was a visit yesterday from my father in law, not usually one to be interested in such things, who had seen the programme, loved it, and told me excitedly that he now knew that hedgerows could be productive, and that fossil fuels are running out.  He was very impressed with the agroforestry side of things, and I suspect that many people also watched it and found themselves similarly having Eureka moments as regards some of the insights about soil, ecosystems and the idea that food production need not necessarily involve huge tractors and lashings of diesel. It was also very powerful for people to start to realise that food production and biodiversity are not necessarily, as is often believed, mutually exclusive.
The only things I thought might have been done differently were firstly that it might have been good to also interview someone who disagreed with the ideas put forward in the programme as regards farming, i.e. some Monsanto bod who argues that we have no need for soil anyway, as agriscience can adapt and create new systems (I have actually heard a talk by someone arguing this).  This would have helped see these debates in the wider context.  Also, I felt that at the end, it would have been great to see her doing something that symbolised her making a start in turning her family's farm around, based on all that she had learnt.  Even just to have seen her plant a walnut tree on the farm would have moved the story from ideas and aspiration to firm steps.
Anyway, that said, 'A Farm for the Future' is quite brilliant.  As Tim Lang says in the programme, in his typical forthright fashion, "these are the new fundamentals on which the food system is going to have to be based or else we are buggered".  Indeed.  We are all in Rebecca's debt for so passionately and coherently showing the nation both that food and farming is in desperate need of a Plan B, and that that Plan B could actually be more biodiverse, more resilient, more beautiful and nourishing, than what we have come to view as 'normal'.
If you liked this programme, do write to the BBC's Points of View programme and let them know.  We need a lot more programmes that address this subject, and apparently Points of View is one of the BBC's key ways of telling what people enjoyed and would like to see more of… "Dear BBC.  Why, oh why, oh why….." is generally the accepted way of starting a letter to them….