31 Mar 2009
The Hopkins Family Tree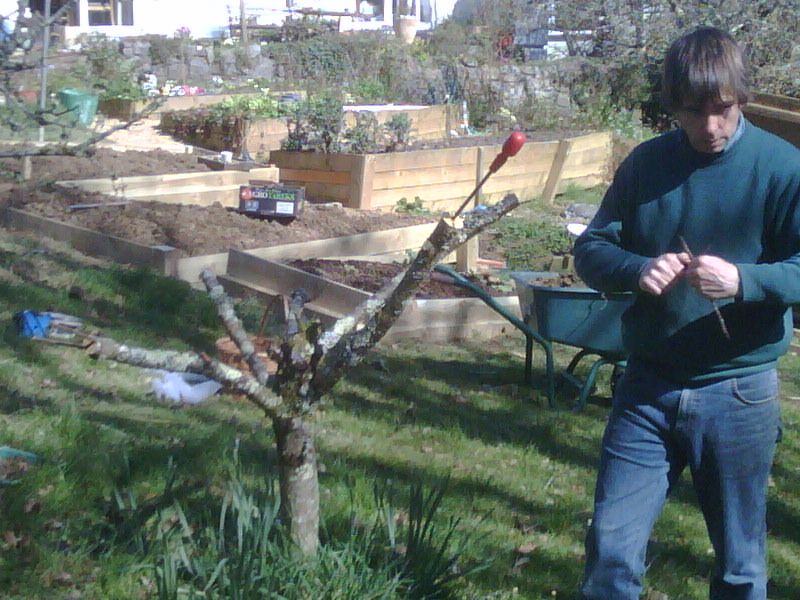 On Sunday, Martin Crawford of the Agroforestry Research Trust, and star of the recent 'A Farm for the Future' programme, came round to my house to perform radical surgery on a tree of mine.  The tree in question (see below left), a dessert apple, had been suffering from an odd ailment which meant that no sooner had it come into leaf, than all the leaves fell off, which in turn meant it was unable to make any fruit.  Martin's diagnosis had been that the tree had some kind of fungal virus, but was essentially healthy, and that given that none of the other apple trees suffered from the same thing, it was an ailment specific to that variety. The answer was to transform the tree into a 'family tree'.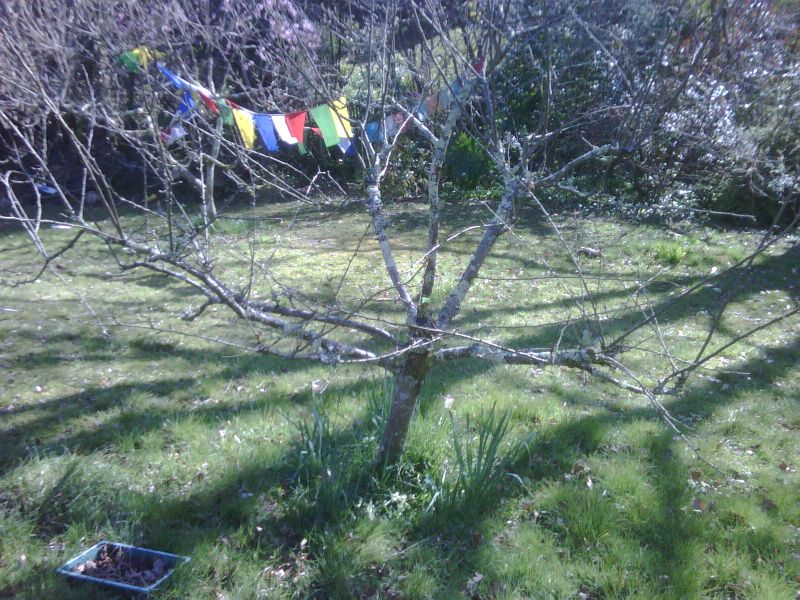 A family tree is basically a tree grafted with varieties other than the host tree. Different rootstocks will support different varieties. For instance, crabapple rootstocks will support the full range of apple varieties, so one tree could produce cookers as well as early and late dessert apples. I have seen a tree that grew plums, greengages and almond on the same tree. For people with a small garden and room for one tree, a family tree makes a lot of sense. There are some specialist nurseries that sell them.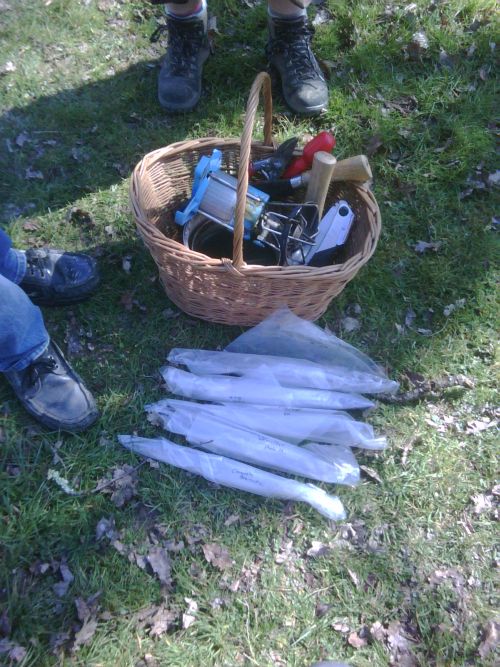 The process of turning my ailing tree into a family tree began with cutting the 5 main limbs back, in order to create a good shape. Then Martin used a billhook to split the stump of each branch so as to create a split into which the graft wood could be inserted. In his basket of essential tools, Martin had graftwood of the 5 varieties we were to add to the tree, which had been cut in January and kept in the fridge since then. These were Winston (a late keeper), Cornish Aromatic (ditto), Beauty of Bath (an early dessert apple variety), Pigs Nose (ditto) and Cheddar Cross (a kind of late early…).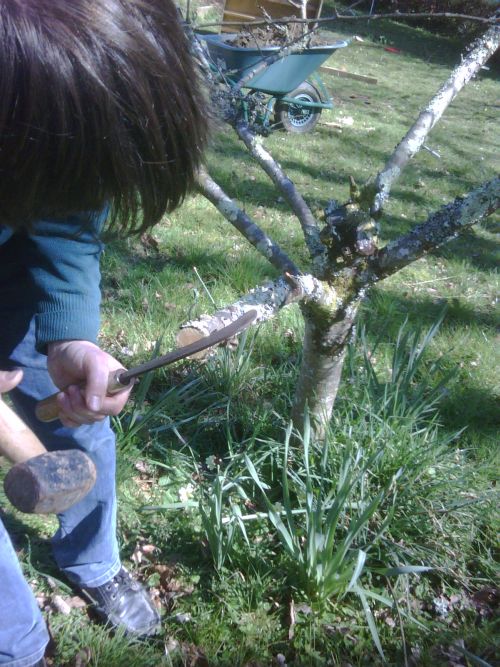 At his nursery, Martin has coppiced versions of each of these, which he uses for obtaining the graftwood he needs. Each piece was then cut into a tapered point (see top picture), which was then inserted into the split in the branch, held open by a large screwdriver. Two pieces were inserted into each branch, as an insurance policy in case one failed. If both take, it will be easy enough to cut the surplus one back in a year or so.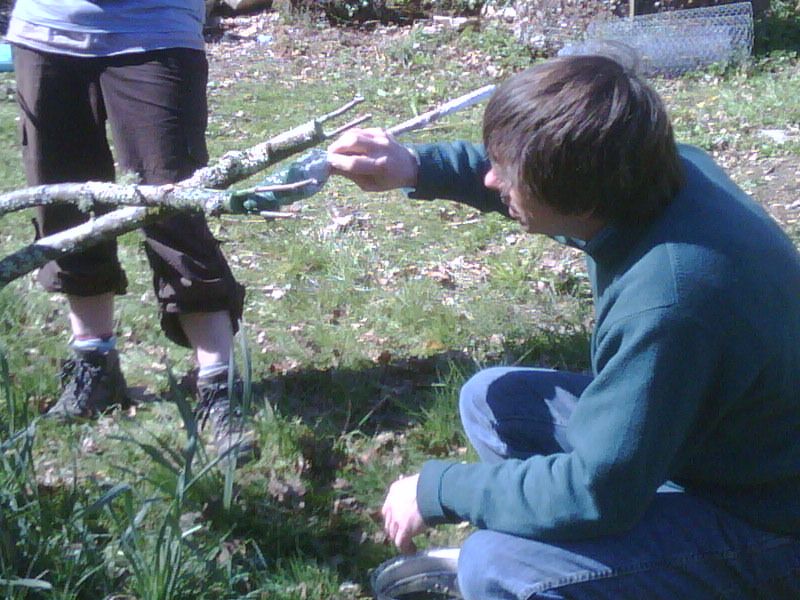 Once he had been all round the tree and inserted the graftwood into each branch, he then painted grafting wax onto the graft, so as to reduce risk of infection, and of the branch dying out before the graft had taken. One can use beeswax, but quite often local bees notice it is there and come and take it away! And that was it. Quite straightforward really when you know how.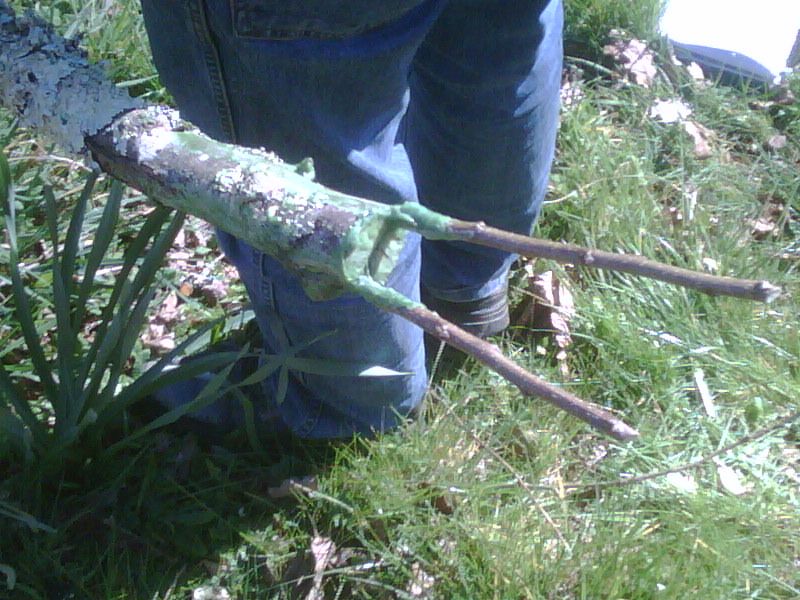 Creating family trees means that new life can be breathed into fruit trees, and also that one can broaden the diversity of the fruit varieties that can be produced from the back garden. It also means that one can preserve some rare varieties alongside the more commonplace ones. If you ever need any incentive for that, I can only recommend once again that you read one of the finest things George Monbiot has ever written, his eulogy to the disappearing English apple. If it doesn't bring tears to your eye, you're a harder person than I.