7 May 2009
This month's round-up of Transition stories from around the world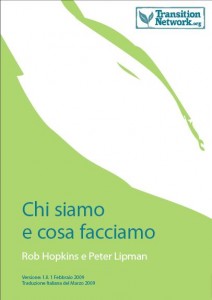 Here is the latest month's worth of stories about Transition that you may have missed from across the world's media.  There are some fascinating stories in here.  Have a delve and a rummage… think of it as a kind of Transition Lucky Dip.  First, and most usefully, there is the May 2009 Transition Network Newsletter, which has links to yet more stories, and you can subscribe to free here.    The 'Who We Are and What We Do' document has been translated into Italian (see left)!  Well done all.  Transition Kirkbymoorside have been making the news, not once but twice.  Then there's the Lewes Pound, which is set to expand, with £1, £5 and £10 notes being issued in July. and is being followed by Stroud, who are about to launch something very similar. You can read about Town Councillor Philip Vial getting ready for the first meeting of Transition Shipston-on-Stour, and about an exciting encounter that Transition Town Tooting had over supper recently.  Kamil from Transition Westcliffe-on-Sea turns his hand to greening the hospital where he works, and also from Westcliffe, a great short film about what they've been up to…
Transition Boulder feature in this great in depth piece from the US, and miles away, Transition Brockley (London) have their first meeting. Transition Town Middleton (Ireland) have been looking forward to 2030, while not far away, it appears that if I'm ever in Inishowen (sounds like the first line of a song), looks like I won't be short of an invite to supper… .  Last month saw the first East Anglia Transition gathering, while Transition Sebastopol have started to map the community around them.
For any of you who read Portugese, here is a very detailed article on Transition from one of Brazil's biggest daily papers.  Now time for another film… here is some footage of Transition Hay on Wye out and about as part of an event about waste….
Transition Town Berea are teaching people how to make raised beds, Transition Kirkbymoorside recently held their launch, and Ann Arbor (that's a place, not a person), are holding a Transition Film Festival.   In Bridport, a Councillor tells a Council meeting that the term 'Transition Town' is jargon, and that they should use plain English instead (!).  Dundas Ontario In Transition (Do It!) have a rather neat thing on their website so they can get a sense of how many people will be coming to their next event.
Here's a gaggle of initiatives celebrating their new official Transition status in their local papers, Thornbury (near Bristol), Farnham, and in the US, Mount Shasta (the 18th Transition initiative in the US).  Finally, you can read about one family's experience of Transition (Newburyport, US), and a glimpse of Transition in the Chilterns.  That's it for now!