2 Jul 2009
Transition Town Tooting Win Prestigious Grant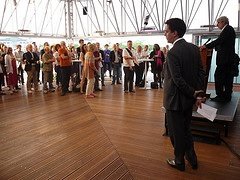 Roving Transition reporter and publisher of Transition Network News Mike Grenville sent the following report from an awards event in London at which Transition Town Tooting found out that they had been one of four projects selected from 178 applications to recieve funding for projects that bring art and responses to climate change together.  The result is a great boost to Transition, and to Transition Town Tooting, who are doing hugely innovative and important work embedding Transition principles in the urban context…. congratulations all… and thanks Mike for the following report.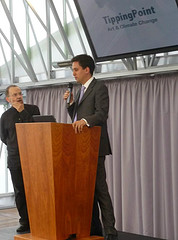 Transition Tooting in south London together with Project Phakama, a London based youth arts organization working with refugees from around the world, have been awarded a grant towards the cost of a year long twelve step Transition process that will culminate in a large scale carnival on the 2010 summer solstice.
Since its launch in 2004, TippingPoint has been bringing artists and scientists together to explore climate change and the creative agenda. With funding from Major Road making the awards possible, The TippingPoint Commissions is a major new project to develop a critical mass of performance-based work conceived in the context of Climate Change. Launched in February this year, TippingPoint received 178 proposals from across the UK from which four were selected to receive grants between £15,000 and £30,000.

The winners of the awards were announced on 29th June at the National Theatre on London's South Bank by Ed Milliband, Secretary of State for Energy and Climate Change, pictured here with (standing on the right of the picture, Lucy Neal, Hilary Jennings, (co-Chairs TT Tooting), Indrajit Patel (Chair of the Tooting Partnership Board/Tooting Business Network), Audrey Helps (Tooting Town Centre Manager), Deb Mullins (Emergency Exit Arts), Faye Mayer (Tooting Community Programme Co-ordinator for Tooting Schools), Fabio Santos (Project Phakama), Ines Tercio (Project Phakama) and Regis Gnaly (Project Phakama).
Ed Milliband noted how great art has the power to move people and is an important approach in the face of the enormous challenge we face. "While Climate Change may seem a long way off" he said, "it will blight the lives of future generations." He added that the urgency is huge admitting that "this is make or break year when the world needs to come together."
In the Xhosa language Phakama means Rise up, elevate and empower yourself. Working with Transition Town Tooting, Project Phakama is planning a Trashcatchers Carnival that will unite 60 artists and over 500 Tooting residents in a year long process looking at a transition from a high energy to a low energy community. Together with Emergency Exit Arts and using art, carnival, celebration and the collective ingenuity of Transition Town Tooting, the Trashcatchers' Carnival will provide a large-scale promenade on the 2010 summer solstice. The project received a grant of £20,000 from TippingPoint towards the estimated £100,000 needed.
Speaking at the event, Lucy Neal from Transition Tooting and organiser of the EDAP in Two Hours at the Transition conference said that they hope that this event will offer a model of engagement to the Transition Movement for future celebrations. "This award is very prestigious and it kick starts our fundraising". Lucy explained that they will use the process of developing the carnival to go through the twelve Transition steps. "Not only is carnival is an exciting community project, it means we can insert all of the other Transition projects into it" she said. "Carnival gets everyone involved whether they are primary school kids or elderly ladies clubs – there is no reason why anyone who wants to be can't be involved" she said. "It raises the stakes as it claims the public space."
"It's an experiment in a celebratory approach to the changes that we have to make that they can be welcomed not dreaded. The key is the conversations that will happen around making this project happen. We are celebrating Tooting getting to know itself better."
Ed Milliband noted that "While only 2% of people pay attention to politicians, 50% pay attention to kids." If that is true hopefully the Trashcatchers' Carnival will mean that kids get to talk some sense to politicians!
You can read Transition Town Tooting's account of the evening here.