1 Jul 2009
Making my Questionnaire Available… perhaps you might like to use it too?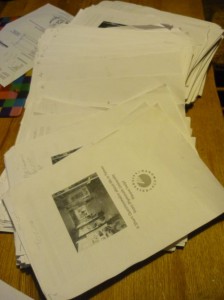 Several people have been in touch to ask whether it is possible to see the original questionnaire that I used to do the surveys from which the initial findings were presented here at Transition Culture the other day.  You can download a pdf. of the questionnaire here.  It was based, in part on questions from the Community Resilience Manual, developed in Canada by the Canadian Centre for Community Renewal, taking some of their questions, but also building from their observations, 8 years after first drafting the manual, that;
…prompted by a growing awareness of climate change, peak oil, food security and water sufficiency, and encouraged by the scientific work of the Resilience Alliance demonstrating the interdependence of ecological systems to the resilience and health of socio-economic systems, CCE has invested resources in re-thinking the conceptual framework for community resilience. In particular, given the cross cutting challenges we face, the second generation of the tool will help communities better understand their vulnerabilities and assets, an awareness that is critical to engaging local populations in triple bottom line carbon reduction and overall adaptation solutions.
To the best of my knowledge, the second generation of the Manual has yet to be developed, so what I have tried to do in the questionnaire is to bring together other aspects of resilience, such as food, energy and skills, in such as way as it contributed useful information to the EDAP process.  I have also woven in questions from the World Values Survey that relate to assessing happiness and satisfaction.  This is the first time I have done this on any scale, and it needs a few tweaks, but it would be fascinating to see this done in some other places too, for comparison purposes.  I hope you find it useful.