6 Jul 2009
5 Amazing Things You Never Knew About Potatoes! *plus* Your Chance to Win a Potato!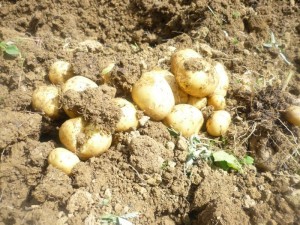 Just been digging up my new potatoes with my kids, very enjoyable.  I didn't grow that many, and it wasn't the most prolific year's harvest I ever grew… all I can say is thank heavens we aren't relying on this year's crop to last us through until this time next year!  I don't tend to grow many potatoes, as there are good local organic growers who grow them better, cheaper and have more space to do so than I have.  I do like to grow a few though, as there are few things nicer than digging up your own potatoes on a fine early July afternoon.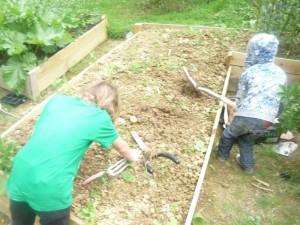 This year I grew them as a way of helping to break up a new bed I made over the winter, a raised bed with terrible clayey soil that I hoped would become more workable via the spuds (jury's still out on the effectiveness of that one).  Amazing things potatoes.  So, in honour of my somewhat meagre but nevertheless terribly invigorating (and, it must be said, rather delicious) harvest, I though I would present you with five amazing facts about potatoes, one of which is entirely untrue, as we haven't had a competition at Transition Culture for a while.  You'll enjoy this, should get you brain working hard on a Monday morning (make a nice change from the usual drivel I post here then…)
So, one of the following facts is nonsense.  Which one?
The Aztecs used to measure their units of time by the time it took a potato to cook
In the early 1800s, the citizens of Offenburg in Germany actually raised a statue to Sir Frances Drake, potato in hand, in celebration of his introducing the potato to Europe (which, as an aside, actually he probably didn't actually do)
Antoine Parmentier, who only survived being a prisoner of the Prussians during the 7 Years War by eating potatoes, presented a bouquet of potato flowers to King Louis XIV.  Marie Antoinette thought they were pretty and tucked one into her hair
Bob Dylan's song 'Blowing in the Wind' was initially about the disease potato blight, the spores of which are spread by the wind.  Dylan was a keen urban gardener, and grew prolific yields on the balcony of his New York apartment. In Jimmy McDonough's biography of Neil Young, 'Shakey', the tale is told of Young visiting Dylan's apartment to find him in tears, after Dylan returned home from a 2 week tour of the West Coast to find his potato harvest destroyed by blight.
Potatoes were the first vegetable grown in space, when they were grown on the Space Shuttle Challenger in 1995
The first correct answer pulled out of my hat on Friday will win…… one of my potatoes!  Can't say fairer than that.  Don't post answers as comments… send them by email only please to rob (at) transitionculture.org by 10am this Friday.  Possibly the most fiendishly difficult competition we have ever run at Transition Culture with almost certainly the least thrilling prize, but I'm sure you will rise to the challenge….