30 Sep 2009
Transition Together: a fantastic new resource for Transition Initiatives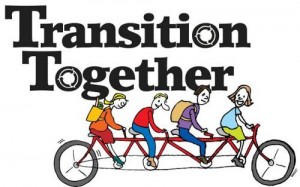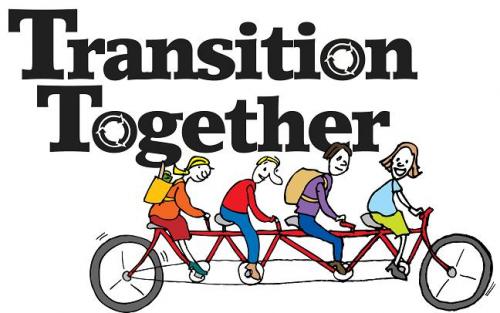 The Transition Together project forms small, social groups of friends, neighbours and colleagues and then supports them in taking a number of effective, practical, money-saving and carbon-reducing steps. A workbook helps each person to build their own Practical Action Plan that improves household energy efficiency, minimises water use, reduces waste (and consumption), explores local transport options and promotes the great value, healthy food available locally. It also helps everyone to understand what's behind the rising energy prices and climate change, and what this means for them, their family and their local community.
This project was developed by Transition Town Totnes (TTT) using funding from Calouste-Gulbenkian. Two pilot groups have successfully completed the programme and now we are poised for wider rollout in Totnes & District. We hope that our project may be of interest to other transition initiatives around the UK, and we'd like to offer material and financial support for those who are interested in starting their own Transition Together project. Based on the success of our pilot project, TTT has been awarded more funding by the Big Green Challenge Plus (BGC+), £10,000 of which we want to use to support this roll-out to the wider Transition Network.
We aim to provide the 'Transition Together Starter Pack' for up to 10 transition initiatives (TIs) in the UK, which includes all the required materials and resources (which will need to be revised with local information) as well as £1,000 per TI to help get the project underway. Please read on if you'd like to find out more about joining us in this experimental project…
About the project in Totnes
Our aim is to inspire and motivate people in Totnes & District to work together, and support each other, in taking effective action to reduce their reliance on fossil fuels, while also strengthening the community's resilience.
Objectives
To initiate and support a number of Transition Groups which involve 200+ local residents (in groups of about 5-8 households) within the next 12 months, and which reflect a representative cross-section of our community.
To build strong, mutually beneficial relationships with local partners, groups and organisations as we work together to recruit and support Transition Groups.
To explore new models of effective community engagement and project delivery.
To create a process and materials that can be used by Transition Together groups with minimal level of input from TTT project resource, i.e. the groups are mostly self-supporting and self-managing. This programme is therefore easily replicable elsewhere.
To provide a means to measure the actual project outcomes.
To share accumulated knowledge and learnings with all other Transition Initiatives through the Transition Network.
See the project website for more information, how it works, who's been doing it so far and so on.
Background
This project evolved from several discussions at TTT about how we could (1) reach out to those in Totnes who aren't already engaged with TTT or some sort of carbon-reducing or sustainability-enhancing activity (2) bring people together to make more community connections and strengthen social support systems (3) start to show some tangible results in terms of carbon-savings, resilience-building and so on – to show that TTT is moving towards achieving its goals and making a real difference – that it's not just all hype or meetings!
We defined the project and submitted a successful bid to Calouste-Gulbenkian, which has funded development of the workbook, printing costs, website, marketing materials and so on. Just recently the Big Green Challenge Plus has awarded us more funding, half of which will be used to support the project here in Totnes & District, and half to support the roll-out of the project across the TN. This intent to share is embedded in all our project activity here in TTT, and we are delighted that we have also secured some funding to help seed the project in other transition communities that think it may be of benefit to them. In return, we will together learn much more about how best to set-up and run a project like this – and how it could/should take different forms to suit different places and communities.
The project is aimed at our general public who have not done much to reduce their carbon footprint so far, so it focuses on simple, practical free or low cost actions. We are looking to reach those in the contemplation or preparation stage. Each topic has reference material for those who want to explore further. We don't aim to duplicate resources and materials that are already out there, but to bring together relevant, current, local info in a workbook. Individual households are not encouraged to do the programme due to the lack of social support and interaction.
Results so far
2 pilot groups in Totnes have completed the programme – results show (for a total of 15 households, 23 participants in total) that:
About 90% met all or most of their objectives, the remainder met some.
General resilience-related measures e.g. 'I feel well-informed about peak-oil and climate change','I know what practical actions I can take to reduce impacts of PO/CC…', 'I feel connected to, and part of, my local community', 'I feel more positive about the future' and so on showed improvement for all but 1 of the participants to some degree (further stats analysis will be done once more results are in).
Practical actions: on average each household undertook 14 practical, carbon and money saving actions during the programme, with 2-3 imminent or planned. This relates to 2-3 actions per workbook section which is as we had hoped – reflecting a reasonable, achievable action plan for each household. Both groups are now going back around the workbook for the 2nd time.
Self-initiated activities: one group launched a Solar PV Campaign lobbying central government for more funding and raising local awareness, they also held a 'Big Lunch' for their whole street and invited all their other neighbours, the other group have arranged a visit to a local recycling/waste processing plant in order to understand more about where our local waste goes – and invited everyone from the other group to join… plus lots of other things like 1 neighbour collects all tetra-packs on behalf of others for recycling.
Ongoing participation: both pilot groups have decided to continue to meet beyond the end of the 'official' programme and to take on more actions, revisit sections of the workbook, and add in other actions and activities as appropriate for their homes and their lifestyles.
Obviously this is a very small sample group and we need many more participants to have completed the programme in order to assess its success. However we are delighted with these very positive results so far.
Rollout plans and process
Scope
Up to 10 TIs that meet the criteria (below) will receive a Transition Together project starter-pack with all resources used in Totnes, plus £1,000 of funding to get the project underway. Ideally we will achieve a good geographical spread.
Joining criteria
You need to be an official UK transition initiative per the definition here
You have a bank account in the name of your transition organisation into which the funds can be paid
Your managing body or core group is fully supportive of your application to join this project
You are confident that you have the skills to be self-sufficient in the planning, delivery and monitoring of this project. This includes the powerpoint skills required to revise the workbook to meet your local needs as this is the only format in which it is currently available
An agreement to stay within the project aims and objectives as outlined above (we can discuss deviations). We would love to see, and hope to see, the project applied in different ways to broaden our learnings but this needs to be within the terms of our original funding award from the Big Green Challenge Plus
A commitment to share your project outcomes and learnings back to us in Totnes (we will collate and share all learnings across the whole network of transitioners).
What would you get as a Transition Together partner (the starter-pack)?
140 page colour workbook template (created in ppt)
Evaluation Form template and excel tool (spreadsheet) for recording and analysing outcomes
Project plan used in Totnes to help you create your own
Marketing materials used in Totnes (bookmark, flyer, poster, images, logo etc)
Info about our budget and spend so far to help you plan your own
Website template for you to copy and adapt for your own T-Tog project, providing you have the right Drupal web development skills and hosting platform available to you. Sorry – we cannot provide you with any website support due to our own website resource constraints.
A copy of the successful funding bid(s) that we submitted – to help you find more funding if you so choose
£1,000 of funding to get your T-Tog project underway – must be spent on this project!
What you'll then need to do
Revise the workbook and other materials for local relevance, your own ideas re approach, your own preferences re design, content etc.
Get it printed
Recruit and support your groups
Manage the project
Manage the £1,000 budget (you'll need to keep a full expenditure record with a receipt for any spend over £100 in case we/you are audited)
Share your learnings and evaluation results with TTT
Application process & timings
To register your interest please send an email to FionaWardttt (at) googlemail.com explaining briefly why you'd like to start your own Transition Together project, and confirming that you meet the criteria as explained above.
The deadline for registering your interest is 5pm on Friday, October 16th 2009
We will review all applications within the following 2 weeks and then let everyone know of the outcomes by the end of October
Starter-packs will then be made available to the 10 transition communities that met the criteria (with a lucky dip process used if there's more than 10) in early-mid November.
If you miss out on the lucky dip, we'll still send you all the materials. Unfortunately, we won't be able to provide you with any of the seed funding.
The £1,000 funding will be transferred at the end of November latest (per our payment schedule with the BGC+)
Our expectations about control (or lack thereof!)
We give you the funding and the starter-pack, then off you go! We trust your commitment to honour the project aims and objectives, to manage the funds properly, and share the outcomes and learnings with us. We really welcome this opportunity to share our project with you, and hope/expect that you will all change it, experiment with it, improve it and at the end of the period, together we'll have achieved much greater success as a result.
What about EcoTeams, CRAGs and so on?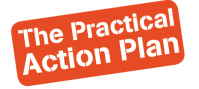 Both are similar to Transition Together in that they get small groups of people together to work through a carbon-reduction programme. We are not promoting Transition Together over and above these programmes – please take the time to research them and make up your own mind about what you think works best for your own community, which may be a combination. Either of these projects may already be available locally. There will certainly be valuable learnings across all these 3 projects as we all experiment with community engagement and encouraging practical carbon-saving actions.
EcoTeams – back when we started the project there were no EcoTeams running in our area and although we investigated setting one up, the costs involved at that time (for EcoTeam leader training) were prohibitive for us. We also wanted to ensure that our programme addressed not only basic carbon-saving actions, but also addressed peak oil, community-building and overall resilience-strengthening activity. To this end we decided to develop our own programme that fully aligned with transition thinking and removed cost barriers.
Since then, we have been informed that Global Action Plan, who run the EcoTeams project, have received funding from DEFRA to enable them to deliver the programme, including the EcoTeam leader training at no cost to individuals. They have a target of reaching 20,000 households over the next 2 years and are running leader training sessions across the UK. See their website for further information on these dates and locations. Anyone can sign up to join, or run, an EcoTeam, and the website allows groups to run on-line while also offering a range of down loadable resources.
CRAGs or Carbon Reduction Action Groups set themselves a carbon budget target and then work together to monitor and reduce their individual carbon footprints. Some transition initiatives already have active CRAGs underway. CRAGs are also a BGC+ finalist and we are already in contact and planning to share our findings and learnings (as we hope to do with Eco-Teams too). Some people may prefer the more scientific/measurements oriented approach of CRAGs compared to a more general behaviour change assessment of Transition Together.
Carbon Conversations – to be added, along with any other similar projects that we hear about.
We wish all these projects the best of luck and look forward to a collaborative relationship.
And finally, what about non-UK transition communities – can they still get the project starter-pack but without the seed funding?
Yes – this will be made available to any official transition community wherever they may be in the world, from early November (per current plan). We just ask for a commitment to share outcomes and learnings with us. More information about how to get the pack will be available here when it's ready for general release, so please don't contact us before then.
Please share this offer with all transition communities that you are in contact with – word of mouth is the best way to get the news out, so please help if you can.
Thanks, Fiona Ward & Lou Brown (the Transition Together team).