14 Oct 2009
Totnes Nut Trees Begin to Bear Fruit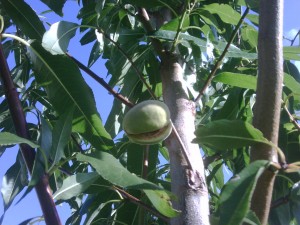 The other day I had a short tour of some of the Totnes nut tree plantings with Wendy Stayte who runs the Totnes nut tree planting scheme, initiated by Transition Town Totnes 3 years ago.  Over 100 trees have now been planted, most of them having a 'guardian', whose job it is to keep an eye on them.  In one park, a line of 3 almond trees, it turned out, have begun to bear fruit!  Nestled on a south facing slope at the end of the park on raised ground away from the flying footballs that had damaged a couple of other trees planted there, the trees had grown well, and now here were the first actual nuts!  Well it felt like a moment of history to me.
The reason for the tour was that Wendy and I had been up in one of the other parks having a photo taken for the local paper to promote the sponsorship of the nut tree scheme by a local solicitors firm, Wills & Probate, who have offered to pay the scheme £20 towards nut trees for every will they create.  It is hopefully just the first example of local businesses getting behind the Transition process.  For the photo we planted a walnut tree (pot grown, bit early for bare-rooted).
Of course Totnes is not going to ever provide the bulk of its carbohydrates from nuts, but it could be a significant contribution.  My mission for the next couple of weeks is to work out how much of a contribution the trees already planted will make when fully grown.  It'll be interesting to see how many more trees we need to plant!  For now though I can relax safe in the knowledge that even if TTT ceases to exist in the morning, future generations will be able to feast on almond, walnuts and chestnuts planted during the early years of the great Transition.