15 Oct 2009
The Launch of 'Local Food' Proves to be Very Tasty Indeed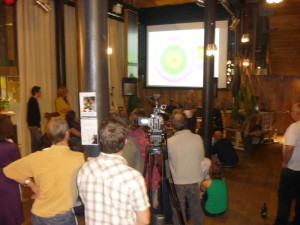 The first of the forthcoming Transition Books series, 'Local Food: how to make it happen in your community' was launched in a wonderful event on Tuesday night at the Hub in King's Cross in London. The evening was more than just a celebration of the book, it was a celebration of local food in general. Tamzin had been laid low with flu in the days running up to the event, so even though she had recovered somewhat, I was drafted in as a last minute compere.
I spoke first, introducing Transition, how the book came about, and why local food is not some nice optional add-on, rather it is what still feeds the majority of the world. Then Tamzin introduced the book, talking about the different aspects of local food that the book identifies, and how the book came about. What is unique to 'Local Food' is that it distils the wealth of models and possibilities out there, enriching it with tips and advice from those who have been practically working on these initiatives for some time. Then Claire Milne took a wider perspective, looking at the role that Transition is playing in the local food world, in galvanising a fresh wave of people, and also in starting to do some of the larger scale strategic thinking that a post-oil world will need.
There was then a break, for wonderful leek and potato soup made by Konstam (a London restaurant which sources most of its produce from within the M25 motorway area), an opportunity for people to mingle and chat. Among the audience were people from various London Transition initiatives and from organisations promoting local food. Transition initiatives appear to be popping up across London like mushrooms on an early autumn field. Among the flyers on the table was one for Transition Highbury, who I had never heard of before. I met some of the Brixton Pound folks, who told me that they have been approached by several major chain shops in the area keen to take Brixton Pounds, leading to fascinating discussions about what to do about it!
The second half kicked off with the rather pregnant Zoe Leventhal from the Transition Town Brixton Food Group talking about their work and about their vision for 2030 for Brixton. TTB's food group has been very busy, and shared the results of their big Open Space day on food the previous weekend. She illustrated her talk with some wonderful slides produced with photoshop, taking existing views of Brixton and 'transitioning' them, with growing walls, food gardens and so on, interspersed with things that are already happening. Very powerful.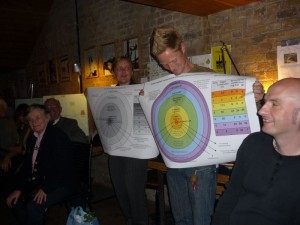 Then Julie Brown of Growing Communities in Hackney spoke, and also offered her vision of food in 2030. Julie's work has been about taking the concept of localisation of food, and starting to make it a reality. Salads sold by Growing Communities is produced on 'micro-farms' in and around Hackney and brought to the market by bicycle, and the scheme sources much of its produce from farms around London. Julie produced the famous food 'target' which appears in the book, and she has now also produced a version of the current food system which she had printed out and were 'modelled' for the audience (see right).
Then people divided into pairs and discussed what one thing, before the end of the year, they would do to increase their involvement in the local food community, and what their vision of 2030 is, in relation to food. After some people fed back their reflections, the last speakers were Holly Gregson and Richard Houguez (below left) who had spent the day going round London with a hand-pulled cart they had made from recycled materials, visiting local food growing projects.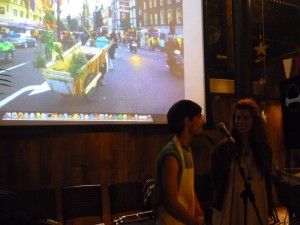 It was rather reminiscent of the Asterix book, Asterix and the Banquet, where Asterix and Obelix travel round Gaul collecting regional speciality foods to bring back and make a feast for Ceasar. Holly and Richard went to 6 local food projects, and from each bought come kind of produce, herbs, vegetables or fruit. They spoke of how extraordinary it was within one day to immerse oneself in the local food culture of London in such a way.
Then, with final thanks, and a big round of applause for Tamzin's achievement, the evening was handed over to the Hollaway Jug Band, who played while books were signed, beers were quaffed, conversations were had and food, in all of its manifestations, was celebrated. When we were conceiving and sketching out 'Local Food', Tamzin and I were very concerned to make sure that the local food movement, which has been active here for many years, felt that this was their book, rather than feeling that somehow Transition had muscled in on what was its 'turf'. I think this has been done really well, with many people from the local food world contributing to the book, and those I spoke to said that they felt that the book would be very useful to them.
Finally some thanks. The event, and the book, would not have come to be had it not been for the help of some wonderful folks. So, in no particular order, stand up and take a bow, Laura at Green Books for pre-launch help and advice, Sarah Middleton of Out of the Box productions for her help with almost everything, Dave Stone of Guru Marketing, the School of Movement Medicine, The Hub (what a great venue), Konstam, Growing Communities for the herbs, the musicians, Chris Seargeant and the Holloway Jug Band, Jane McKenzie-Grey, Sam Stonehill for filming the evening (clips to follow), Dylan Roberts the Powerpoint wizard, Tamzin's family for getting her vertical in time for the launch and to all the speakers and everyone who came…..