4 Jan 2010
A Recipe for the New Decade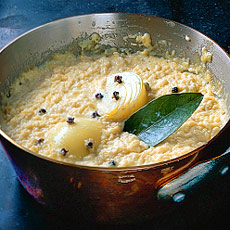 So, welcome to 2010.  This new decade of limits, of huge possibilities and possibilities, of coming home to where we are, of reskilling, reconnecting and relocalising. While Sharon Astyk has offered her cogent predictions for the new year, and Richard Heinberg has offered powerful analyses as to why tackling climate change is down to us rather than waiting for the Copenhagen re-run in Mexico to sort it out, I want to mark my first post here in 2010 with a recipe.  It somehow feels representative of the challenges of the new decade, embodying some of the qualities we need, as well as being highly delicious.  It is Traditional Bread Sauce, although we could call it Transitional Bread Sauce (as my fingers mistyped it when I initially typed it in).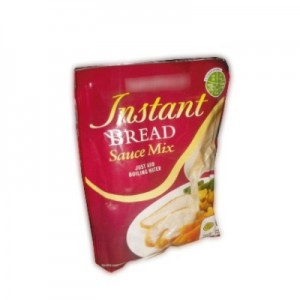 In my family, every Christmas day we make Bread Sauce, and it is always exquisite, and we always wonder why we don't make it more often, and then never do.  Yet some of the qualities it embodies that we will need in the new decade include;
it is deceptively simple to do, being an easily learnt skill that initially looks complicated but is actually quite straightforward upon further investigation
it involves recycling ingredients that would otherwise be thrown away
apart from cloves, all of its ingredients could be sourced close to home
it is a traditional recipe, opening the door to rediscovering many other traditional recipes that were built around local and seasonal foods
it has become something that many people now make from a packet (see right), in a far substandard version, so there is an element in making Bread Sauce yourself, or wrestling back control over your dinner from corporate food culture
it is something you are more likely to make for more than one person, so Bread Sauce encourages the rebuilding of community, of people sitting down to eat together
So here is the recipe, based on Delia Smith's, but adapted slightly so I don't get sued.
Traditional Bread Sauce for 8 people.
You will need;
4oz of white breadcrumbs, stale enough so you can grate them
1 large onion
15-18 whole cloves or grated nutmeg
1 bayleaf
8 black peppercorns
1 pint of creamy milk
2oz of butter
2 tablespoons of double cream
salt and pepper to taste
Halve the onion and stick the cloves into it.  Put your studded onion, with the bayleaf and peppercorns into a saucepan with the milk.  Add some salt and then bring the contents of the pan to the boil.  Take it off the heat, cover, and leave in a warm place for 2 hours.  Then, when you are ready to make the sauce, take out the onion, bayleaf and peppercorns and put them to one side.  Stir the breadcrumbs into the milks and add 10z of butter.  Keep the pan on a very low heat, stirring occasionally, for about 15 minutes, until the crumbs and swollen and you have a thick sauce.  Now put the onion back in and leave the pan in a warm place until you are ready to serve.  When you are ready to go, whip the onion out, reheat gently, beat the rest of the butter in, and check to taste.  It usually accompanies chicken or turkey, but makes a great side dish to lots of meals, especially those involving roast vegetables.
Fantastic.