19 Jan 2010
A Review of 'In Transition 1.0'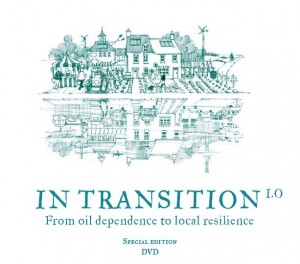 "In Transition 1.0″: Rejoice, Rejoice, We Have No Choice" A Review by Stephen Cook, Transition Denver.
From Transition Times (Colorado edition).

It's not surprising the first documentary is already here on the Transition Movement, given the speed at which initiatives are springing up around the world. Emma Goude's superb "In Transition 1.0″ should only add fuel to the spreading fire.  While the film touches on Transition efforts worldwide, this is a Brit production through and through. It seems they have taken off the training wheels.
Certainly the locus of the movement in Totnes benefits from the sparks thrown off for years by Schumacher College. The great British journal of ecology, spirituality and the arts, Resurgence, is published in Devon. And, all the villages in the film testify that now is the time for a movement and Transition is the model we've been creating.
The obvious advantage conferred by living in villages does not mask the fact the fundamentals still apply. Watch the locals put centrally located land back into food production. (That isn't now a car park, that is). Enjoy the zest with which reskilling expertise is passed along. Marvel at the rocking, packed hall as the Lewes Pound is introduced. Tour a school where community building is taught. And, go inside Norfolk council chambers as members discuss passing ordinances to accelerate Transition initiatives.
And there are the children. Lots of children. They are woven as a strand through the piece; their beaming faces a glimpse of a future with more holiness. We watch them as they learn and we listen as they speak in their own voices. A poised young lady emerges as one of the film's narrators.
The movie explains but doesn't dwell on the twin shocks of peak oil and climate change. We nod at the foolishness of importing 80% of the fruit to a land so bountiful. But the notion of community resiliency is really the star of this show. Perhaps the English suffered a particularly low blow from what we may term the "Great Disrespecting." That is, disrespecting the local and the communal and the homemade in favor of the meteoric climb of the individual. Defining success without clear consideration of relation to the rest of existence. It is a joy to watch them begin to re-claim their birthright.
Surely we know some of what the future holds: the deprecations from all the threatened economic actors; the detours along the way. But, as "In Transition 1.0″ reminds us, we are on the path. . . . . . Carry on.
You can buy copies of the 2 disc DVD set of the film here.