8 Mar 2010
A Day at the Dorset Schools Green Summit
Last Friday I travelled to Dorset on a beautiful clear day which turned from a hard frost to glorious sunshine over the time I was journeying. I was going to Bryanston School which was hosting the Dorset Schools Green Summit, drawing together kids from 40 schools across the county. There were various displays, including the new strawbale building the school is putting up, a plastic bottle greenhouse, some PV panels, a thermal imaging camera and electric bikes.
I arrived about 11.30am and went in to watch the end of the workshop being done by Dick Strawbridge (of 'It isn't easy being green' fame) and Julia Hailes, a sustainability consultant. They were showing the kids a range of things, sheepswool insulation, recycled loo roll and a range of other things, as tools to stimulate conversation on various topics. It was very engaging and entertaining, especially the bit about toilets and how much poo weighed (you had to be there…).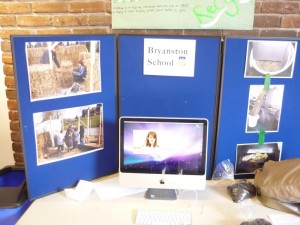 Then, after lunch, I did 3 talks back to back to a third of the group each time. I talked about peak oil, how we find ourselves atop the Energy Mountain, and how we need to design for a way down the other side. I put it in the context of Dick and Julia's talk, saying how they had looked at what individuals can do, and I was looking at what we can do if we scale things up to include our neighbours, streets, towns, or schools. Giving the same talk back to back three times is quite full on, but it seemed to go OK. There were some good questions, and people seemed quite engaged…
Then it was all back into the main hall, where all 350 kids did a Q&A with Dick, Julia and me (sounds like a Meryl Streep film). Most of the schools are participating in some kind of eco-schools programme, and it is interesting to muse upon what the step on to becoming a Transition School would entail. I was thinking about that on that way home.
I think one thing is the visioning side of it, is the work that is being done piecemeal little projects, or does it feel part of a coherent vision that the school is fired up about? Is food production some little addition tucked away behind a hedge, or is it central to the landscaping of the school? I walked round the school with loads of lawn and grass, but was told there was nowhere big enough for food production.
Does the school make monitoring of energy production highly visible? Are the kids involved in retrofitting? Do kids leave school knowing basic gardening skills? Do kids get trained in setting up green businesses and being innovative? Are people from within the community enabled to set up green businesses on the school grounds? How much is the school rethinking itself for a more localised world?
Anyway, as I headed back through the beautiful Dorset landscape I reflected on what a Transition school would look like, remembering that in fact many Steiner schools already do many of those things, growing food, reskilliing and so on, but most others are a long long way away from it. Well done to the event organisers for a great day, and good luck to all the kids in greening their schools!