6 Apr 2010
Ah…. Spring. Doncha Just Luvvit?
When I lived in Ireland, I once met an elderly gentleman who told me that he grew up in an old cob house in Limerick which had a huge inglenook fireplace, designed, a la Newgrange, so that on one day in the year, the sunlight came down the chimney and lit up the whole hearth, alerting you to the fact that that was the day to plant your potatoes.  I have always taken that as an awe-inspiring example of how, often, 'simple' dwellings were often nothing of the sort, but on reflection, its not a very reliable approach, it might be cloudy, you might have the fire lit, or even just be out for the morning.  Anyway, I don't need a precisely oriented chimney to let me know Spring has arrived, it's all of a sudden underway whether I want it to be or not (and I very much do…). 
This short post is really about nothing other than me getting excited about gardening, so if you are expecting anything more meaningful, switch off now.  Spent a couple of days of Easter in the garden, and there is that time when things that had just been dawdling along, growing a little bit now and then, all of a sudden accelerate and start growing like fury.  It usually coincides with the birds starting to sing that bit more loudly, the days being longer, and all of a sudden you feel that the housebound gloom of the winter is a thing of the past.  That 'tipping point', for me, was this weekend.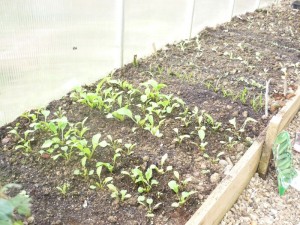 I planted out my broad beans and peas (potatoes went out a couple of weeks ago), sowed loads of seeds, and my greenhouse is now home to a range of salads engaged in an 'eat me first' competition (I think the rocket is going to win: see left).  Beetroot seeds have been sown and my onion sets are sending up green shoots.  I sowed peas and beans in the greenhouse in November, many of them didn't make it, but those that did are now racing ahead, with the promise of early fruit.  I love the fact that now, as opposed to two weeks ago, each morning visit to the greenhouse reveals noticeable growth.
The longer days, the fact that for once, things are drying out, the sunshine, the emerging leaves on the trees, it's wonderful and there are few pleasures more delightful than the early morning watering of a greenhouse full of salads.  Roll on the summer.