28 May 2010
On The Unleashing of Transition Malvern Hills…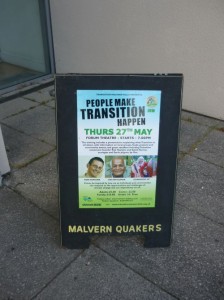 Now I've been to some Unleashings in my time, but last night's Unleashing of Transition Malvern Hills (TMH) was a stunner.  Unleashings are designed to be the launch event which, historically, people look back to as the point when a Transition process arrived, a celebration of a place and its culture, a big push for wider engagement, and a statement of collective intent.  I have been to Unleashings before with music, but not one with three choirs, to Unleashings with input from young people, but not one with such inspiring young people speaking, and to Unleashings with input from other local organisations, but not one with the level of affirmation from a wide range of local organisations, including the local MP.  In short, it was an extraordinary event.
Transition Malvern Hills took a big gamble with this event.  Not content with hiring a small hall somewhere, they booked the town's largest venue, The Forum Theatre, which takes 400 people.  A week ago, with 100 tickets sold, there were some sleepless nights but, as they say, it'll be alright on the night, and in the end, nearly 400 people came.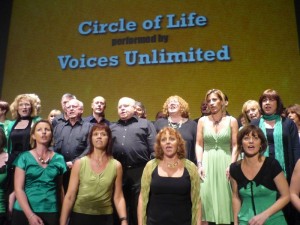 The evening opened with Voices Unlimited (see right), a local choir, who were amazing, very powerful, a fitting opening.  Will Tooby of TMH opened the event, welcoming everyone and expressing his delight (and considerable relief) at the size of the audience.  Then, after an introduction from Brigit Strawbridge, of TV's 'It's Not Easy Being Green', I spoke for about 40 minutes, introducing Transition, and putting it in the context of the new model being developed for communicating Transition, modelled on Christopher Alexander's Pattern Language approach (you can see a really ropey 20 second clip of my talk here!)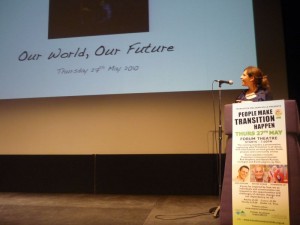 Following me was Laura Spiers (see left), a local young environmentalist and climate change campaigner, who gave a talk called 'Our World Our Future'.  Coming from a background in geography, Laura has been active in working with young people and inspiring them to get engaged in climate change activism.  Her enthusiasm for the subject was infectious, and she is currently working on a project to get young people engaged with building an Earthship in the local area.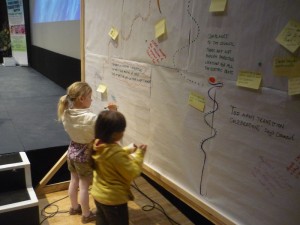 Then it was time for the interval, during which people were invited to put their visions of the future on the Transition Timeline, visit the stalls of local organisations and the TMH working groups, chat with each other, or see local young magician Ollie Mealing (very good, and available for hire for events and parties, check him out here).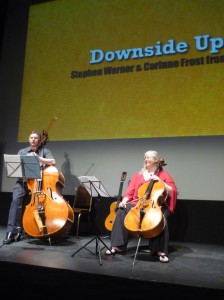 The second half started with music.  Local performers Downside Up (see left), a two-piece who also play with the LSO, played 3 pieces, the last one being Elgar's Nimrod played on two cellos, which was very moving (Elgar spent some of his life in the area).  First speaker was Bob Tilley from the local conservation society, who gave a short talk on the history of local area, and what is distinctive about it.  Malvern used to be a spa town, and still has some of the history visible to those who are looking for it.  Malvern, he said, is a town intent on retaining what it is that makes it distinctive and gives it its local character.
Then a 20 minute film was shown which offered an overview of the work of TMH thus far.  Projects covered included a garden share scheme, some great home energy work with home energy audits and a thermal imaging camera, some reskilling stuff, some great work with local school kids setting up food gardens and so on, a car club and much more.  The film is not yet available online (but you can see their YouTube channel here), but I will post it here when it is.  A great crash course in a very dynamic initiative.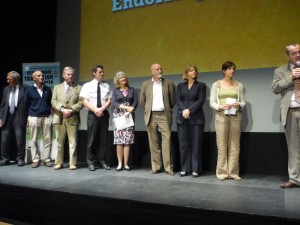 Then came the piece that for me was one of the highlights.  Will Tooby invited onto the stage 11 people representing key local organisations (see right), who were invited to give a very short endorsement of TMH, or a reflection on the event.  They included the leader of the local council, the principal of the local college, the Assistant Director of the local NHS Trust, the local police inspector, the head of the local AONB and newly elected MP for the area, Harriet Baldwin (3rd from the left).  The local police inspector said that he wished Transition well, that their new police station was built to a very high eco-spec and that their new fleet of police cars are much smaller and more efficient.
The County Councillor spoke of how TMH had supported their work in changing their catering arrangement, their food is now "not only edible, but it is all local!".  Dave Armitage of the AONB, who have been supporting TMH's work, spoke of TMH's "great foresight and great energy", and urged the audience to "give them some of your energy and some of your time".  The depth of support shown from such a diversity of key local organisations bodes very well for TMH's future, and newly elected local MP Harriet Baldwin offered her support to the initiative in whichever way she could help.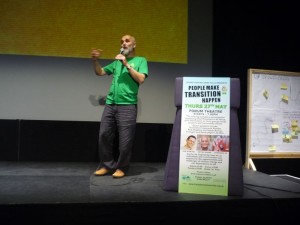 Next speaker was Russell Carrington, a local young farmer.  He was introduced by Will Tooby (see left), who talked about growing up in the area as a farmer's son, and recalled the valley being filled with hop growing and fruit production, and cherries being packed into creates to be sent off to market on the train.  In the time between then and now, he lamented, much of that has been lost, and we have now reached a point where it takes 10 calories of fossil fuel to produce one calories of food.  Russell talked about the importance of food and farming in Transition, and of his struggles in taking on his family farm following his father's retirement.
He showed a short film about his, and other local young farmers', experiences.  With the average age of UK farmers now being 58, a huge amount of young people are needed to go into agriculture over the next few years, but the obstacles they face are very substantial.  He spoke of how Transition had inspired him, and how he would like to turn his family farm into a 'Transition Farm'.  A recent trip around the world, visiting huge dairies in New Zealand producing milk for the Chinese market, and huge grain farms in the US, showed him the worst excesses of industrial farming, but he also saw some inspiring examples of more sustainable farming approaches.
Then there was a short film from Satish Kumar, who had been due to speak at the event but had been unable to attend, which wished the event all the best, and talked about how Transition was a very exciting movement, and intimately connected to a reconnecting with nature.  Then the Powick Community Choir sang 'Adiemus' by Karl Jenkins, very rousing and beautiful.  Then, following some concluding thanks from Will and short reflections on the event from me, the evening was concluded by local singer Sam Eden, who sang a song about Malvern, and then that was that.  Although the event ran to nearly 3 hours long, it held the audience gripped for the duration, continually changing the pace, songs, films, talks… it was a fantastic occasion.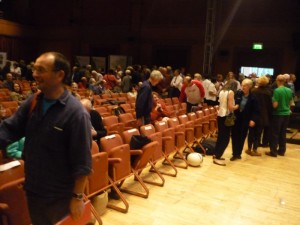 One of the things that worked really well was that each link was presented by a different member of TMH, giving them each experience of speaking at events of that size, and introducing a range of TMH people to the audience.  Asked to give some thoughts at the end of the event, I said that it felt entirely feasible to me that in 10 years time, if the energy of this event were harnessed, and the connections with other local organisations demonstrated were built on, a blue plaque would be put up outside the theatre to this evening.  Transition Malvern Hills felt well and truly unleashed, with an evening that spoke to the head, the heart and the hands.